Cornelia Schleime, Woman with dog, 1994/95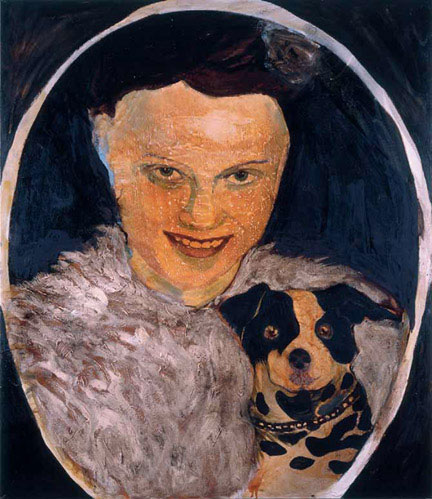 A young woman with her dog looks out, keenly and slightly provocatively, from the sketched frame of a locket. Clearly based on a photograph, the portrait appears artificial and as from another age, mainly as a result of the distortion of colours. Cornelia Schleime has used various techniques to create a noticeably antique-like surface structure. She has applied shellac dissolved in methylated spirits and roughened the coloured surface using coffee grounds or sand. The background of the painting has been treated with asphalt lacquer to give the canvas a torn and scabby appearance.
Time and again Cornelia Schleime's work has focused on images of people – in particular, of women. She plays ironically with established clichés and platitudes: there are good little girls with long braids or erotically charged faces of young women in religious habits. "Frau mit Hund" [Woman with dog], however, radiates elegance and self-confidence. She is not selling herself but instead is securely in control of her self-representation.