Ida Kerkovius, Composition, 1955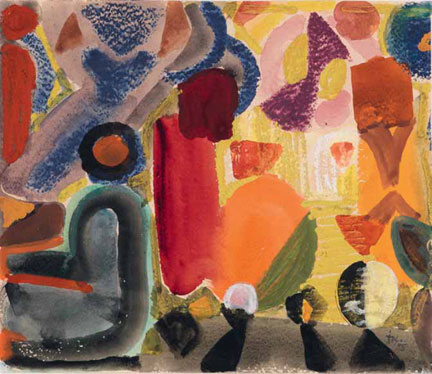 Ida Kerkovius, born in 1879, belongs to the first generation of female artists who, albeit under difficult conditions and against much resistance, received professional training and were able to steadily pursue an artistic career thereafter. She was a master student in Dachau and Stuttgart under Adolf Hölzel, one of the most interesting tutors of his day. Hölzel's teaching method was based on the communication of compositional principles, which were intended to give students a foundation on which to develop their own means of artistic expression. He encouraged them to move away from the representational in order to be able to freely handle the artistic medium.
Between 1920 and 1923, Kerkovius continued her studies at the newly founded Bauhaus in Weimar, developing her own visual language based on line, form and colour. A striking feature of this language is the luminous, high-contrast colouring, the intensity of which was increased by combining such diverse materials as watercolour, gouache and pastel. The compositions are often non-representational, though she frequently alludes to figures or objects. This is also the case in this painting – one of her late works – which allows countless permutations of possibilities: thus seated figures within a bisected space with strong light-dark contrasts could, for example, be freely interpreted as depicting a stage performance such as a concert.