Rupprecht Geiger, 429/65, 1965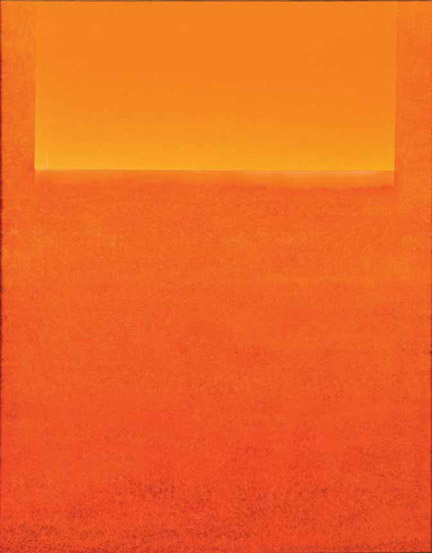 A picture by Rupprecht Geiger provokes an immediate response: the force of the colour is well-nigh overpowering. This shade of red, which the artist intersperses time and again with hints of pink or orange, triggers associations of peril and passion. Sensuality is paired with aggressiveness, fascination with alertness. 'Red is life, energy, virility, power, love, warmth, strength. Red makes you high,' is how Geiger explained his predilection for the most eye-catching and most multilayered of all colours, which he modulated with such expertise that his canvases became an imaginary space.
It all began with a lipstick vial the self-taught Geiger found in a care package. A short time later he joined Willi Baumeister, Fritz Winter and others to form the Zen 49 group of artists, which devoted itself to the abstract. From 1962 onwards Geiger, one of the most important abstract artists in post-war history, produced his monochromatic colour fields. His unremitting aim was to present colour in an untainted state, freed as much as possible from reality, as a pure experience, to create vibrant contrasts between warm and cold tones and juxtapose them to achieve a 'stimulating tension'. In 1965, the year "429/65" was painted, Geiger also began to use fluorescent acrylic paints, which he applied using a spray gun, intensifying the impact even more and causing his pictures to positively smoulder.