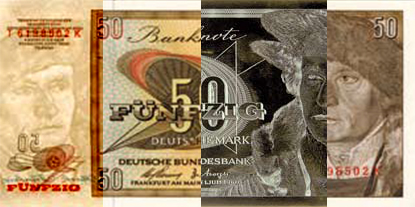 Pictures archive of German notes and coins
We offer the most frequently requested parts of the collection in high-resolution images of German payment media. These images are free of charge.
Since D-Mark banknotes of all series are no longer legal tender, the restrictions imposed by section 128 of the Act on Breaches of Administrative Regulations (Gesetz über Ordnungswidrigkeiten - OWiG), the provisions in criminal law concerning the protection of monetary tokens pursuant to section 146 et seq of the German Criminal Code (Strafgesetzbuch - StGB) as well as any regulations derived from them in respect of the size, resolution, identification requirement or similar for the reproduction of such banknotes are no longer applicable.
Under criminal and administrative law, they are therefore generally freely reproducible. As there is still a considerable return flow of D-Mark banknotes to us and owing to the observable fact that they continue to be accepted in some business transactions, we would nevertheless be grateful if the D-Mark banknotes reproductions prepared by you were to differ from the original D-Mark banknotes so that
the dimensions are somewhat larger or smaller than those of the original banknotes
no security features (watermark, security thread, ultraviolet image, any foil element) are imitated
the paper quality used is different in thickness and feel
the image and print resolution is poorer than that of genuine banknotes
any possibility of being mistaken for genuine banknotes is further reduced by means of other modifications/variations
if possible, no double-sided reproductions are produced.