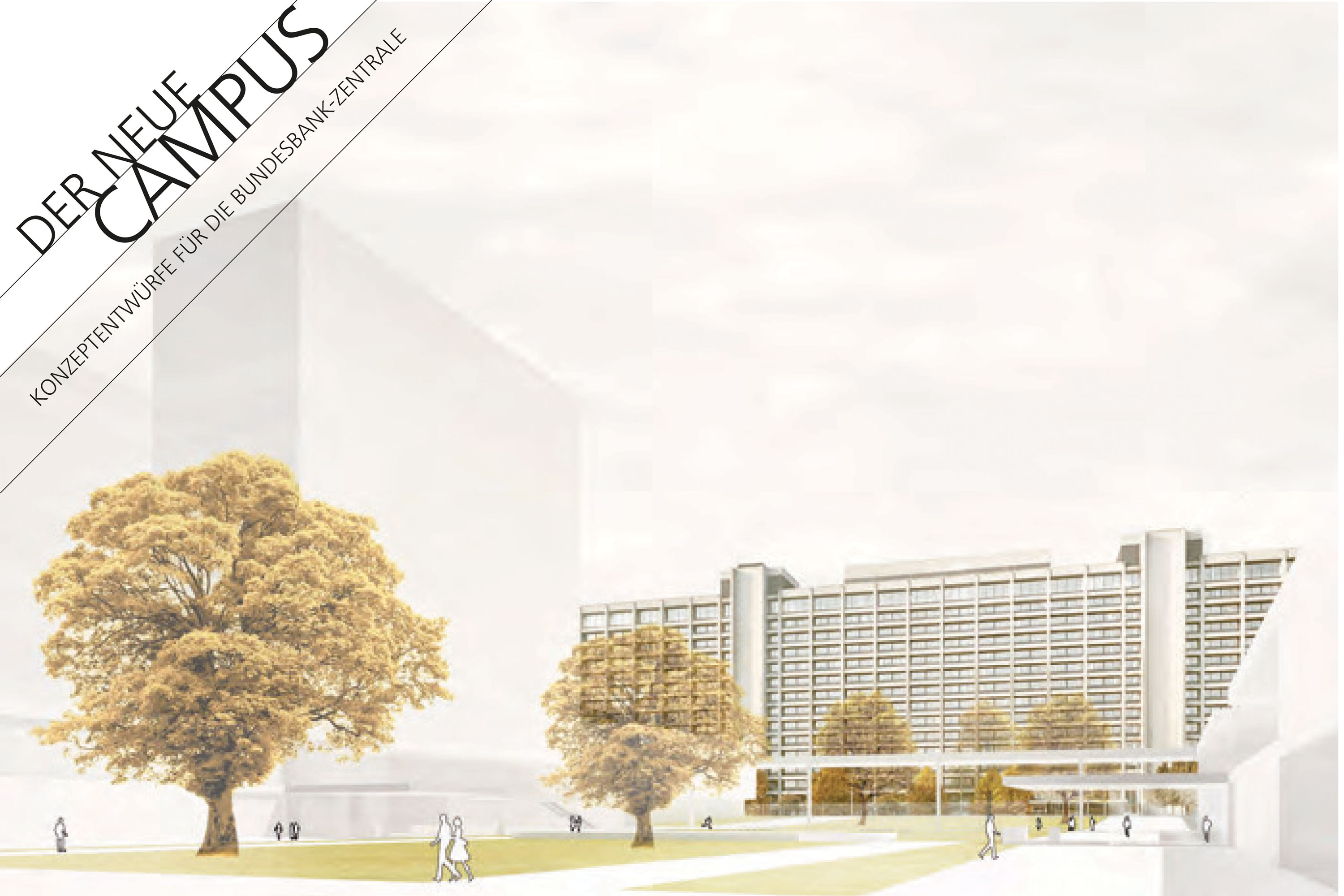 Info board for the exhibition in January 2019
The distinctive main building of the Bundesbank's central office has been in use since 1972 and is to undergo a complete restoration. In addition, the Bundesbank plans to construct further buildings on the campus to accommodate all employees of the Bank's central office in Frankfurt.
Looking back
The striking main building ...
...The main building was inaugurated in 1972 based on the design concept of ABB Architekten. It symbolises the culture of stability of both the Bundesbank and post-war West Germany. The architectural appearance of the main building will not be changed as a result of the planned renovation work.
Single-site strategy
At present there is room for only around half of all the Bundesbank's central office employees on the campus on Wilhelm-Epstein-Strasse in Frankfurt. The declared aim of the Bundesbank's Executive Board is to bring together all the employees of its Frankfurt central office at one location in the coming years.
Design competition
In May 2018 the Executive Board of the Bundesbank launched a design competition as part of a Europe-wide negotiated procedure. Applicants' urban development plans were to take account of the following factors:
A building concept for approximately 130,000 square metres of additional gross floor area, in addition to the existing main building and the Cash Management building.
Additional buildings such as a day care centre and a press centre – if possible, outside the security area. 
Open space concept: in addition to the buildings, a park area (as spacious as possible) featuring small event areas, footpaths and cycle paths as well as spaces for art. 
Implementation of a mobility concept for around 1,500 parking lots on the campus.
Implementation of a logistics concept for supply and disposal purposes at the Bundesbank central office.
The submissions
Six architecture firms submitted urban development design concepts. All six concepts demonstrate that a single-site strategy for up to 5,000 employees on the campus is feasible. The architecture firm Ferdinand Heide Architekten received the commission to turn their design into a more detailed overall concept for the future campus on Wilhelm-Epstein-Strasse.
Looking ahead
Further development by Ferdinand Heide Architekten of the feasibility study to create an overall urban development concept.
Basic agreement with the City of Frankfurt on whether the project will be approved based on the more detailed concept.
Submission of formal preliminary building application to the City of Frankfurt.
Launch of one or more architectural competitions for the design of the new buildings.
Process of assigning other planning services (structural engineering, technical infrastructure, landscape architecture). 
In parallel to the construction of the new buildings, the planning and execution of the renovation work on the main building to go on