Awards of the Bundesbank as employer
Integral health management at the Deutsche Bundesbank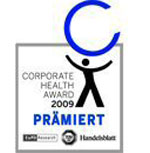 On 22 February 2010, EuPD Research, TÜV SÜD Life Service and Handelsblatt, under the auspices of the Federal Ministry of Labour and Social Affairs, officially awarded the Deutsche Bundesbank the Corporate Health Award 2009 certificate. The certificate is a seal of quality confirming that the Bank has an exemplary workplace health management scheme, which, in today's environment, is an essential component of a modern, forward-looking corporate strategy. The Deutsche Bundesbank's integral workplace health management scheme coordinates all of the measures which enhance employees' individual health resources and promote healthy working conditions, and integrates them in the management processes. The certificate attests that the Deutsche Bundesbank is exemplary in its promotion of the health and performance of its employees. Bundesbank staff benefit demonstrably from the high standard of the workplace health management scheme.
The Deutsche Bundesbank – a family-friendly employer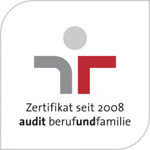 On 24 November 2008, the Bundesbank was awarded the Work and Family Audit certificate (Zertifikat zum audit berufundfamilie®). The official presentation of the certificate by the patrons, the Federal Minister of Family Affairs, Dr Ursula von der Leyen, and the Federal Minister of Economics, Michael Glos, took place in Berlin in June 2009. As part of the auditing process, the Bundesbank's range of family-friendly measures was analysed and concrete aims and measures were developed to further improve the support given to employees to combine their work and family life. The work and family audit is an initiative of the Hertie Foundation (a non-profit making organisation), supported by the Federal Ministry of Family Affairs, Senior Citizens, Women and Youth. For more information, visit www.beruf-und-familie.de (available in German only).
Further awards
The Deutsche Bundesbank is a top employer in the Trendence institute studies "German graduate barometer 2009/10" and "German secondary school student barometer 2009/10". It participates in the "Fair Company Initiative".  Furthermore, in the "Universum Graduate Survey 2010", it was rated as one of the most popular employers.