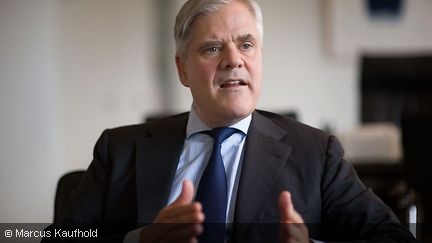 "Growth in Germany benefits the euro area" Interview publisher in the Swiss daily newspaper Le Temps
26.02.2018 | Andreas Dombret
Interview with Andreas Dombret conducted by Ram Etwareea.

What are the three major factors driving strong economic growth in Germany? 
Growth in Germany is being driven by a buoyant labour market which has been supporting private consumption for quite some time now. Exports are a benefit to the economy as well, and corporate investment is picking up markedly. The German growth rate right now stands at a six-year high.
This situation of strong growth and low unemployment might lead to higher labour costs. Will this be a challenge to the German economy? 
Thus far, wages have been growing at a moderate pace even despite a positive output gap. If wage growth were to outpace nominal productivity growth for an extended period of time, labour market performance and competitiveness could suffer. The recent pay agreement in the German metalworking and electrical engineering industries appears to indicate that wage growth and therefore domestic price pressures will gradually increase in Germany. But right now the German economy seems to be able to handle somewhat higher wage growth.
At various occasions, leaders including the IMF, have called on Germany to engage in strong public expenses. What is your personal response to this call?
I do not see a positive output gap as signalling a need for an expansionary fiscal policy stance right now. Instead, maintaining a safety buffer of sorts in order to be able to address the looming demographic challenges would, in my view, be the prudent thing to do. Calls for a more accommodative fiscal stance in Germany are informed by the hope that it will jump-start aggregate demand in the euro area. However, this course of action is unlikely to deliver the desired effect – as the import content of public expenditure is low, spill-overs to other euro area countries are likely to be rather small. Yet I believe that some sort of fiscal policy action will be necessary to counteract the demographic drag on growth: targeted investment in research, education, and especially digital infrastructure would raise growth potential. 
Can the strong growth spill over the rest of the Eurozone?
The expansion in the euro area is already broad-based, with most countries and sectors posting positive growth. The euro area and Germany grew exactly in sync in 2017 (+2.5%), and this synchronicity is expected to continue in 2018 as well. Growth has therefore already spilled over.
Do you consider the euro to be too strong? Does it pose a challenge to German exports, which are a pillar to the German economy?
The exchange rate is not a policy target of the Eurosystem. Therefore, the Euro cannot be "too strong" or "too weak". Exchange rate movements are a consideration only inasmuch as they impact inflation. With regard to this, recent research suggests that exchange rate pass-through to inflation has weakened somewhat in the euro area. That said, the Euro has fluctuated quite a bit over the last years, albeit with no visible impact on German exports.
Is it time to tighten the monetary policy of the European Central Bank by ending its QE programme?
Given the rather subdued inflationary pressure at present, I believe that an accommodative monetary policy stance remains appropriate in the euro area. And even after the net purchases have ended, the monetary policy stance will remain loose.
© 2018 Le Temps SA