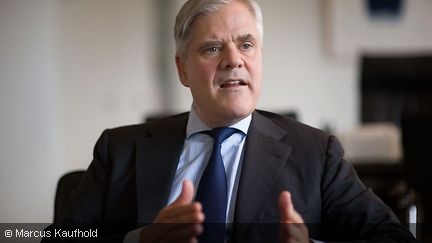 Benefits provided by new digital products in the field of payment systems Interview published in "Focus"
05.02.2018 | Andreas Dombret
Interview with Andreas Dombret conducted by Alexander Wendt.
Could the hype surrounding Bitcoin trigger the next financial crisis?
Bundesbank Executive Board member Andreas Dombret has concerns about the speculative cryptocurrency bubble. However, in his view, not even a crash would put paid to the idea of new payment systems.
Mr Dombret, could the speculative bubble surrounding Bitcoin and other cryptocurrencies send the entire financial market into a tailspin if it bursts?
This does not concern me in the short term. However, bubbles of this nature could by all means pose a threat to financial stability in the medium and longer term – particularly if cryptocurrency derivatives are to play an ever greater role in the financial market. This is because they work like a lever with the potential to exponentially amplify major ups and downs.
Nobel Prize-winning economist Robert Shiller predicts that Bitcoin will totally collapse – that the bubble will burst, leaving nothing of the electronic currency behind. Do you share his view?
Of course, we can see that a bubble is forming. Bitcoin and other cryptocurrencies are highly speculative assets. But that is a statement which, while true, is only part of the picture. There is something else that seems far more important to me.
And what is that?
The highly speculative situation should not detract from the fact that, in future, we will be dealing with many more digital products in the field of payment systems. Looking ahead, we are expecting an increasing number of app-based payments that will be settled in real time.
At the
Bundesbank

, you are responsible for banking supervision. Let us assume that an institution wishes to report Bitcoin or another cryptocurrency on its balance sheet – what would you think of that?

As a banking supervisor, I would be interested to know whether an institution is able to handle the risk associated with such a move. Pursuant to prudential regulations, credit institutions are required to ensure that a sufficient amount of capital is held against all types of risk. Of course, that would also apply to Bitcoin as a risky investment.
Are new electronic payment systems a topic that central banks are already addressing?
Central banks need to do more than observe – they themselves need to identify prospects. When it comes to new payment systems, we want to be at the forefront. That is why the Eurosystem also supports instant payments – real-time credit transfers that are settled by moving funds from one account to another within seconds. Like us, the entire financial sector stands to benefit from ensuring that new currencies and payment systems are stable and secure. We at the Bundesbank, for instance, worked together with Deutsche Börse in 2016 to develop a Blockchain prototype for settling securities, with the aim of discovering how it would work in practice.
What do you hope to gain from Blockchain technology?
If payments were permanently linked to information about the transaction and participants, which is perfectly feasible in the case of Blockchain, this technology would above all offer an opportunity to provide greater transparency. In trade financing, for example, cross-border sales of goods involve numerous participants and many delivery-versus-payment transactions. Using Blockchain technology would make much faster, transparent and automated settlement a reality.
Real-time payment is set to become available in Germany as well this year. Will you yourself use these payment apps?
Real-time payment methods are very customer-friendly. In this respect, they will stand a great many bank customers in good stead. Time will tell whether I will be one of those customers. However, I believe that these apps will primarily be of interest to today's adolescents – the "digital natives".
© Focus GmbH. All rights reserved.