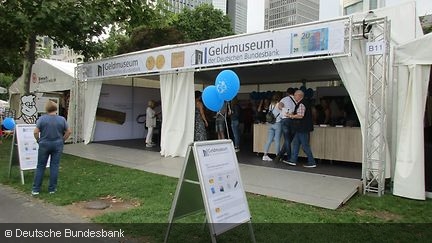 Museum Embankment Festival 2019
From 23 to 25 August the Money Museum will once again be closing its doors and moving to the banks of the river Main in Frankfurt. The Money Museum team will offer a mix of established and new programme items in the completely redesigned Money Museum tent.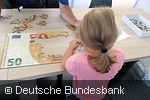 This will include information on everything to do with the euro, a quiz about "20 years of the euro", the "shredded money guessing game" and the popular programme for children, which also gives them the chance to design their own banknote.
The wheel of fortune at the entrance of the tent is a new attraction. You're sure to win a souvenir with every spin, but this means you also have the chance to win other prizes.
The museum team look forward to welcoming you.
Programme details at a glance
"20 years of the euro" quiz
Wheel of fortune
Shredded money guessing game
Crafting and puzzle activities for children
Information on everything to do with the euro
Opening times
Friday, 23 August
15.00–22.00
Saturday, 24 and Sunday, 25 August
11.00–22.00