DM coins intended for circulation
From 1 January 2002, euro banknotes and coins are legal tender in all EU member states participating in monetary union. This has nullified the legal tender status of all payment media denominated in Deutsche Mark. The Bank has called in for exchange all DM coins (which have been withdrawn from circulation) - with the exception of the 2 DM coin first issue.
Below you will find information on and images of Deutsche Mark coins.
1 Pfennig coin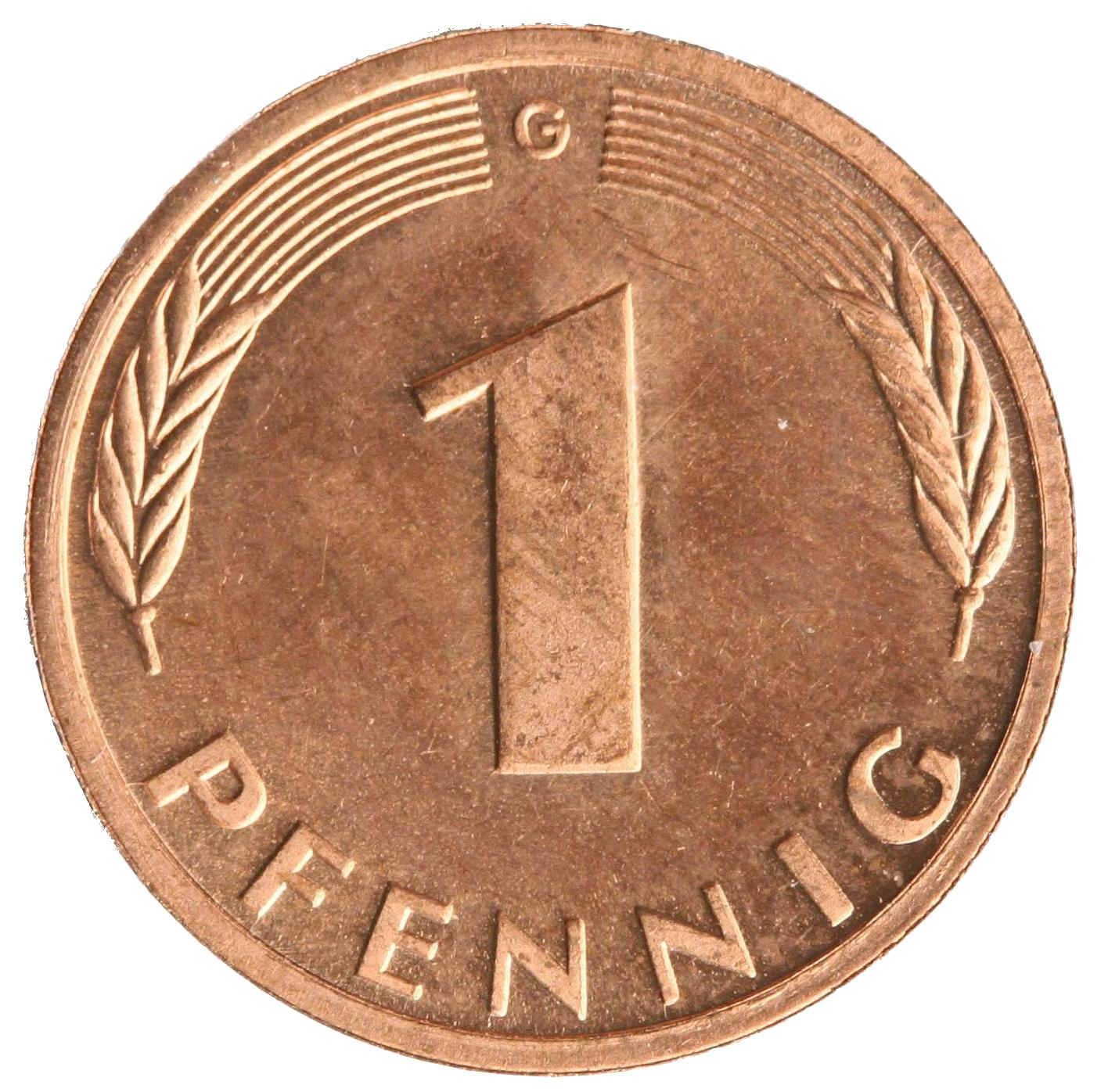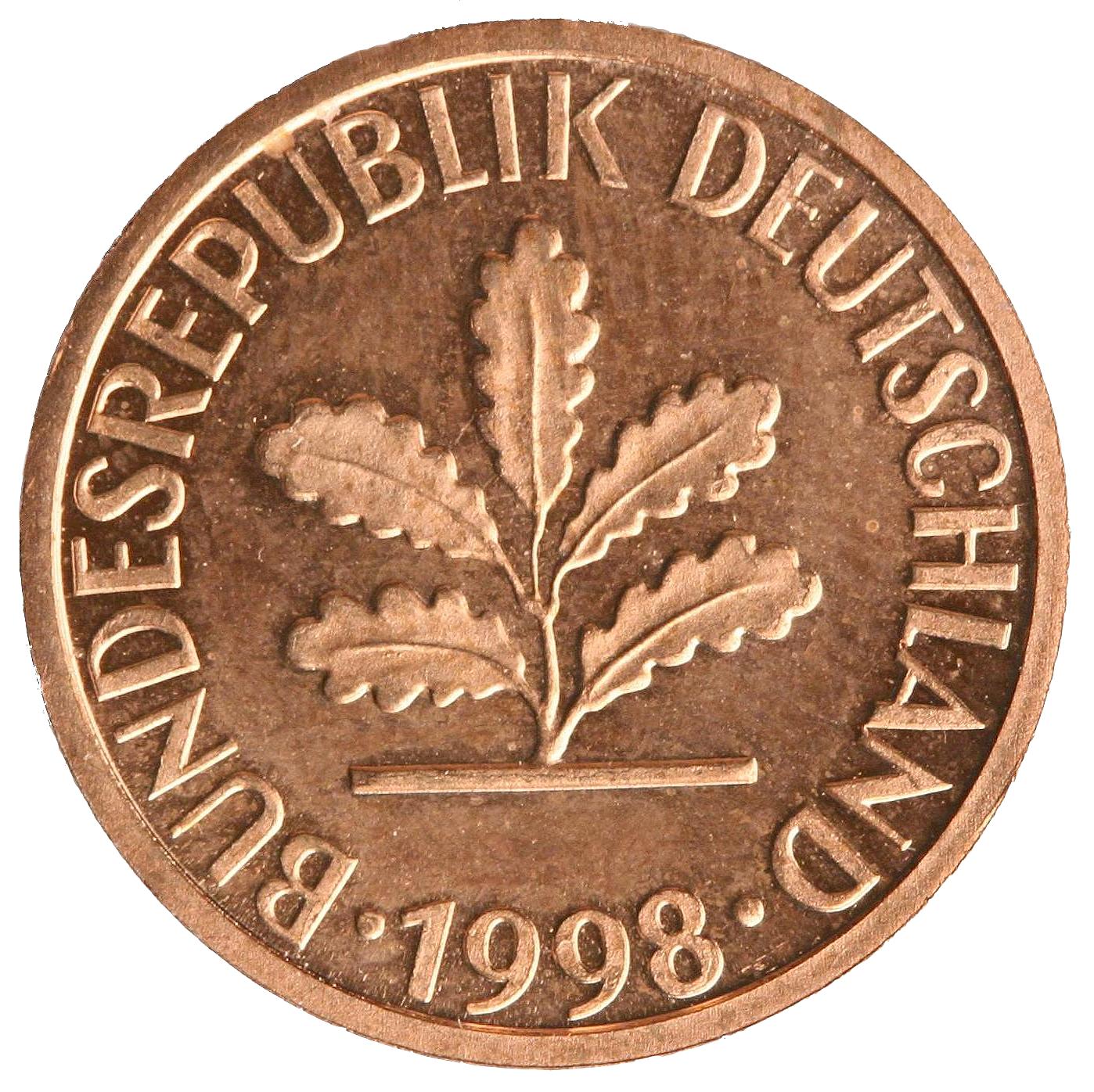 | | |
| --- | --- |
| Attribute | Specification |
| Coin | 1 pfennig |
| Metal | Copper-coated steel |
| Diameter | 16.50 mm |
| Width | 1.38 mm |
| Mass | 2.00g |
| Edge | Smooth |
| Design | Adolf Jäger, Frankfurt am Main |
| In circulation since | 1948 |
2 Pfennig coin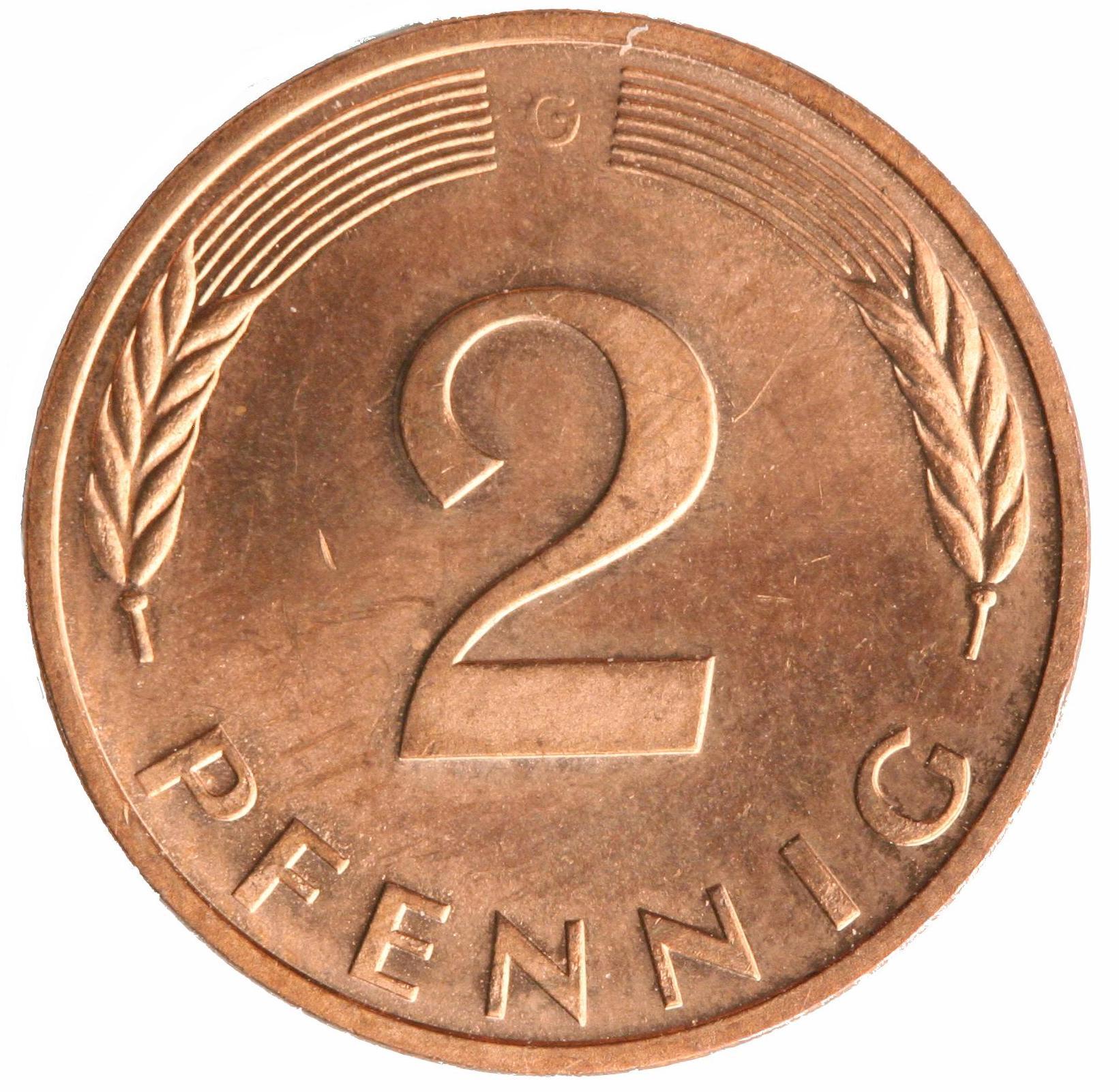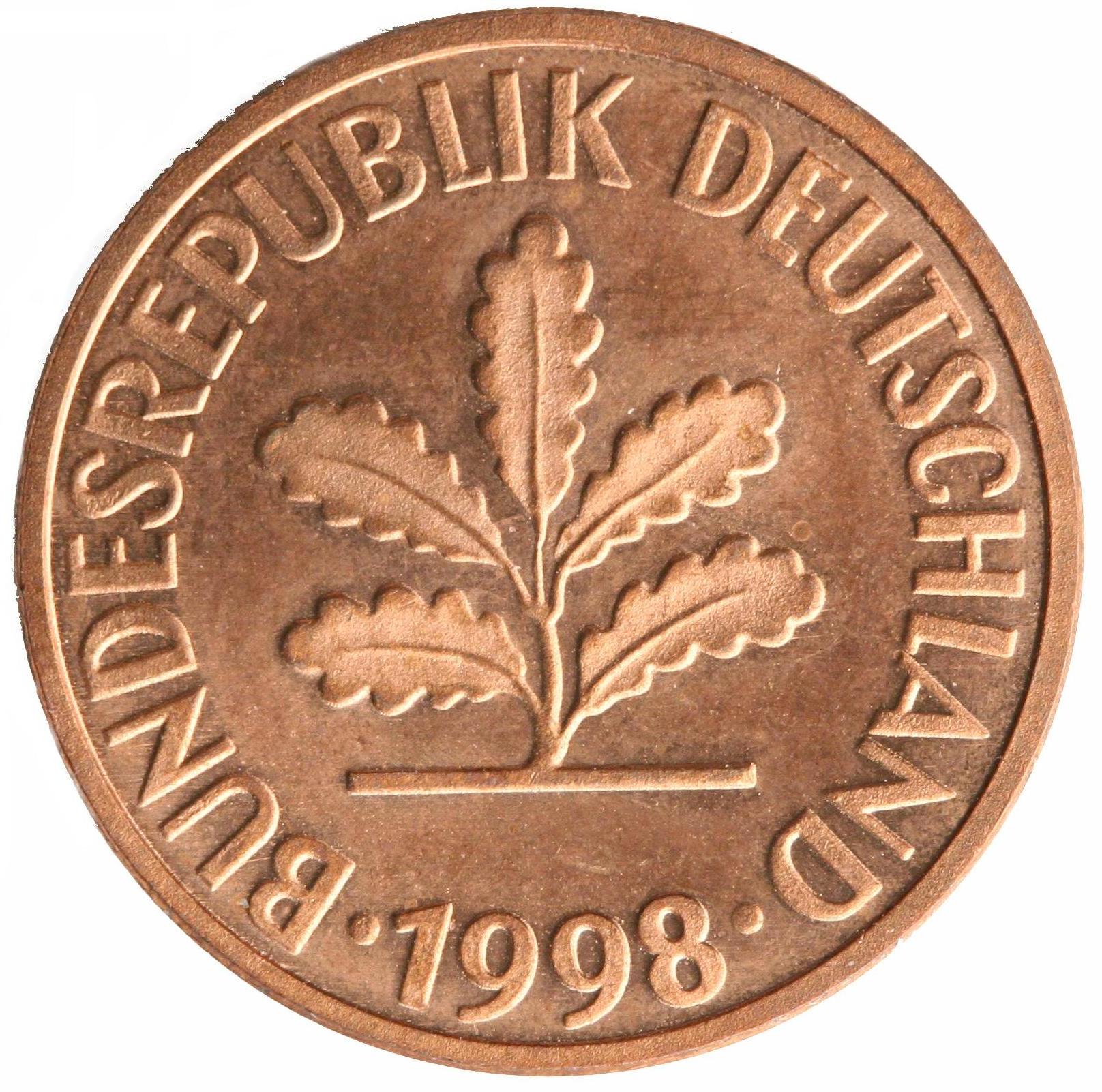 Attribute
Specification
Coin
2 pfennig
Metal
1st series: copper alloy (copper, tin, zinc)
2nd series: copper-coated steel
Diameter
19.25mm
Width
1.52mm
Mass
1st series: 3.25g (copper alloy)
2nd series: 2.90g (copper-covered ste
Edge
Smooth
Design
Adolf Jäger, Frankfurt am Main
In circulation since
1st series: 1950
2nd series: 1968
5 Pfennig coin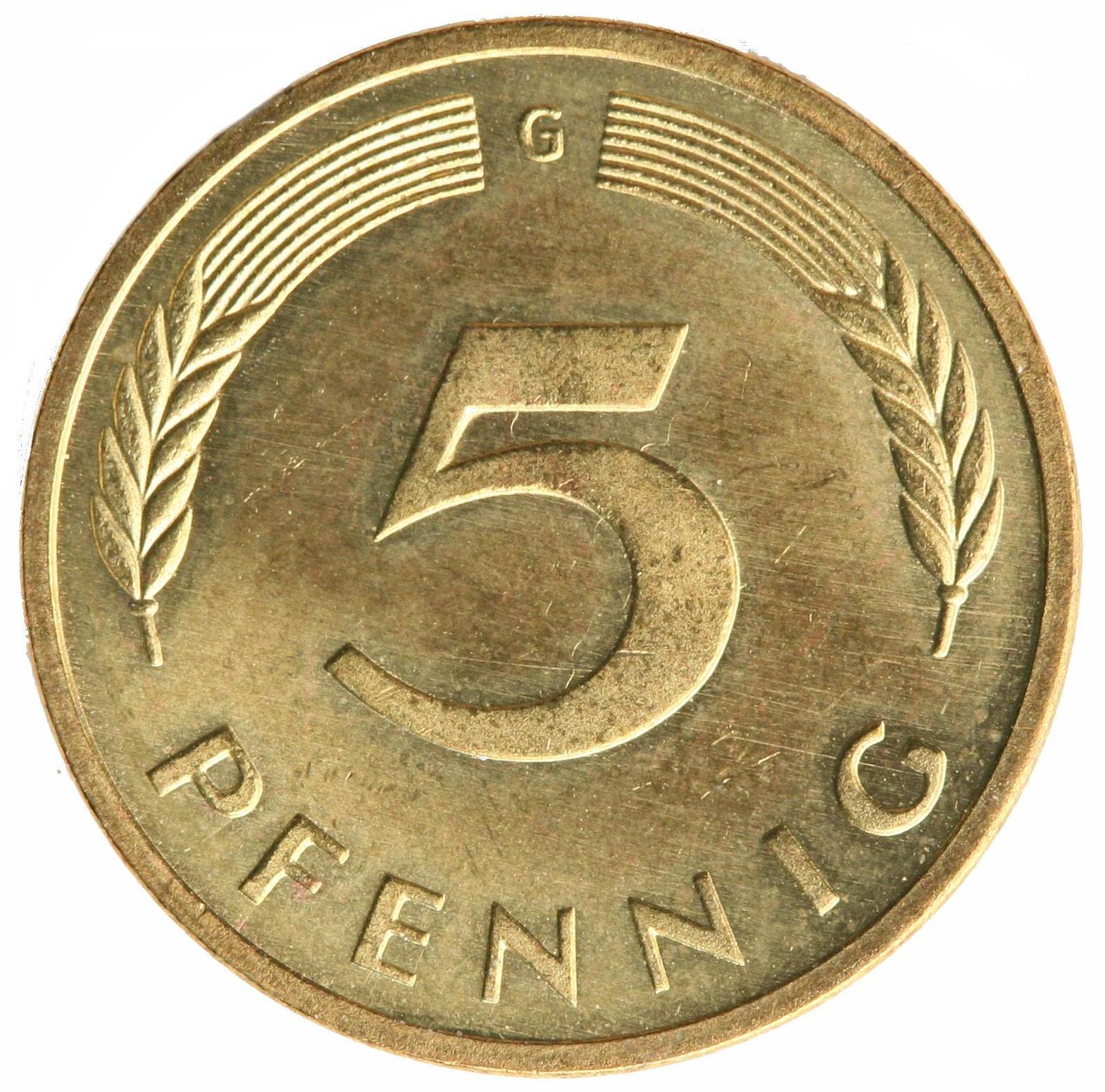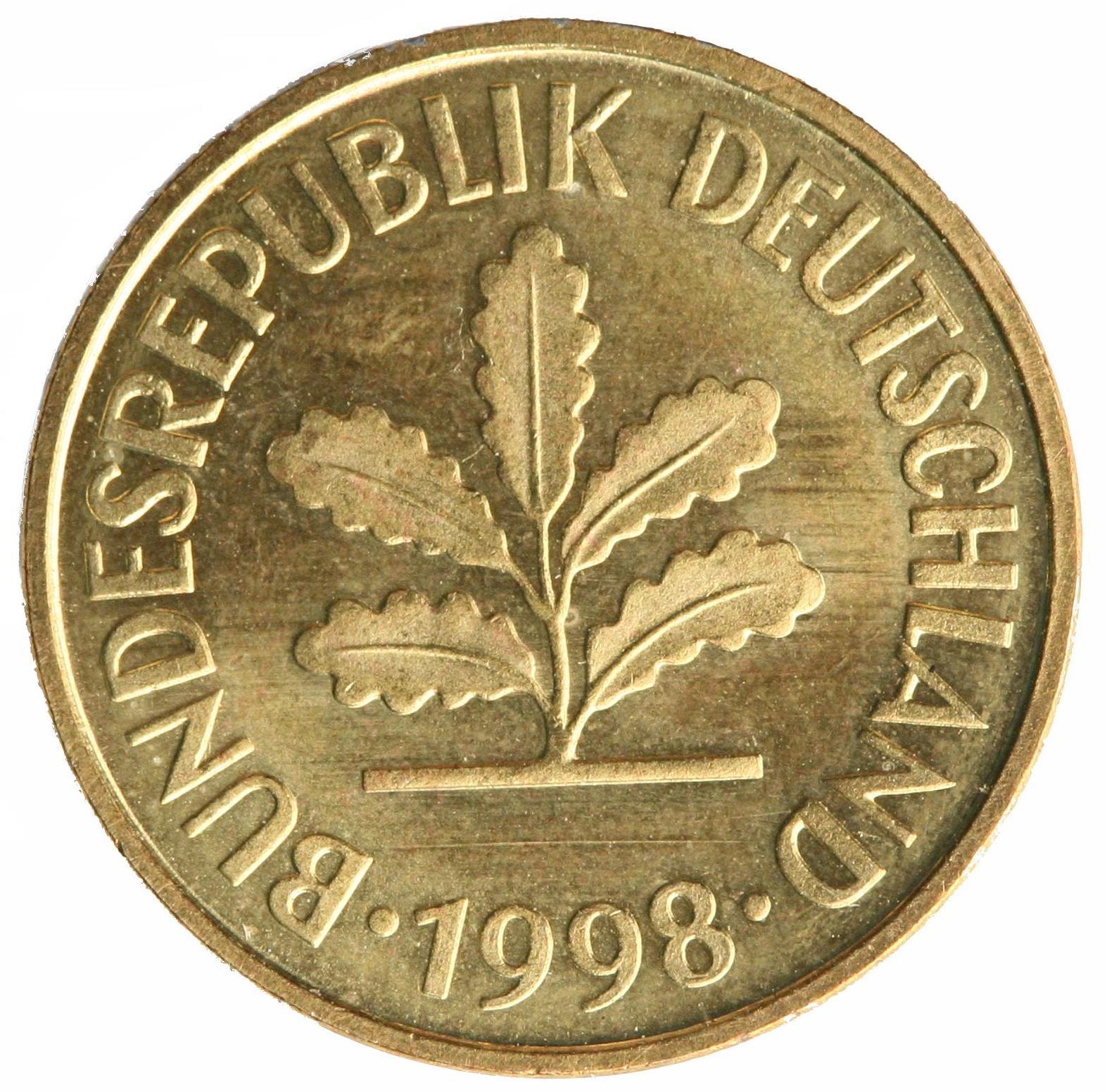 | | |
| --- | --- |
| Attribute | Specification |
| Coin | 5 pfennig |
| Metal | Brass-coated steel (copper-zinc alloy) |
| Diameter | 18.50mm |
| Width | 1.70mm |
| Mass | 3.00g |
| Edge | Smooth |
| Design | Adolf Jäger, Frankfurt am Main |
| In circulation since | 1949 |
10 Pfennig coin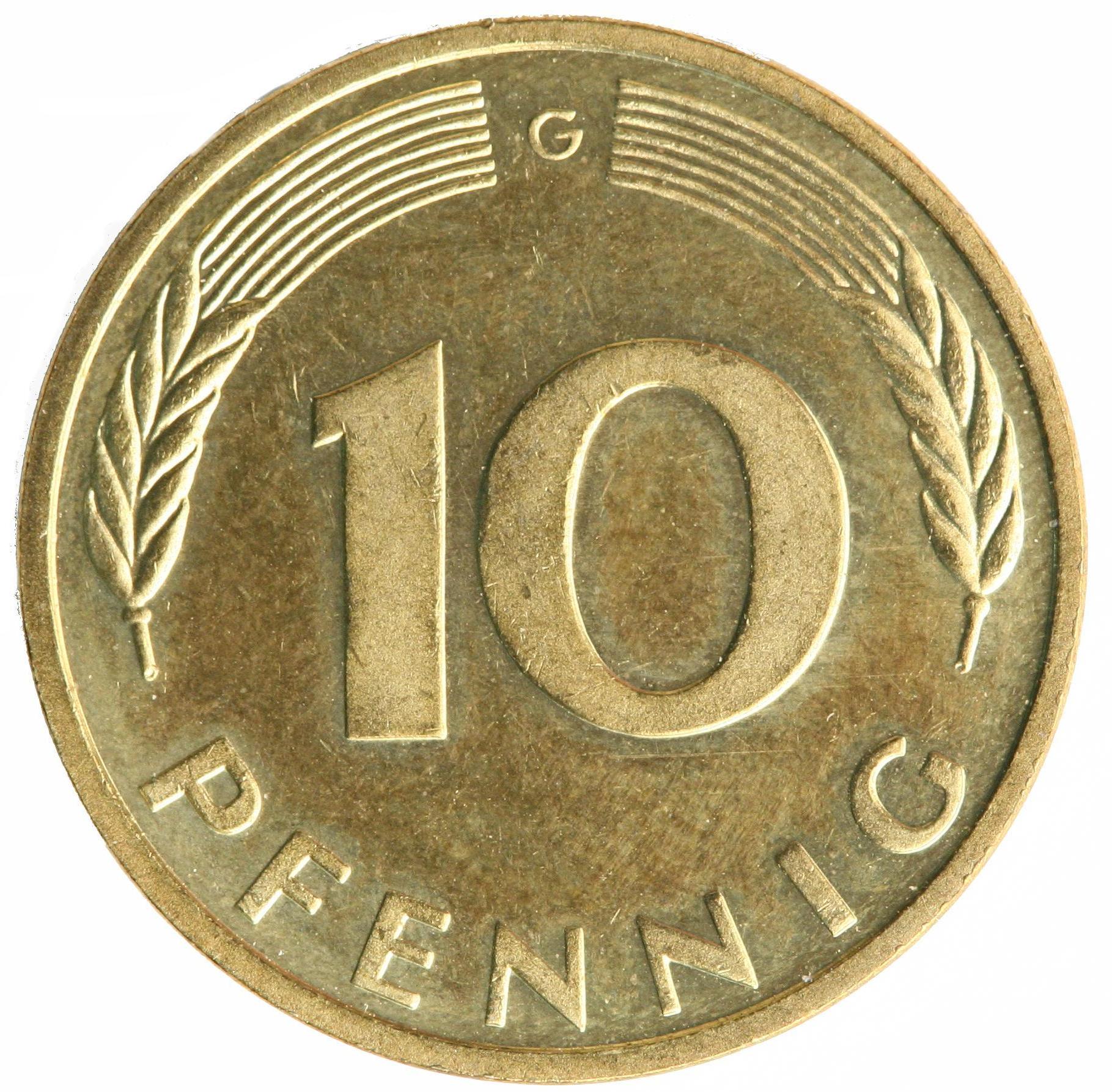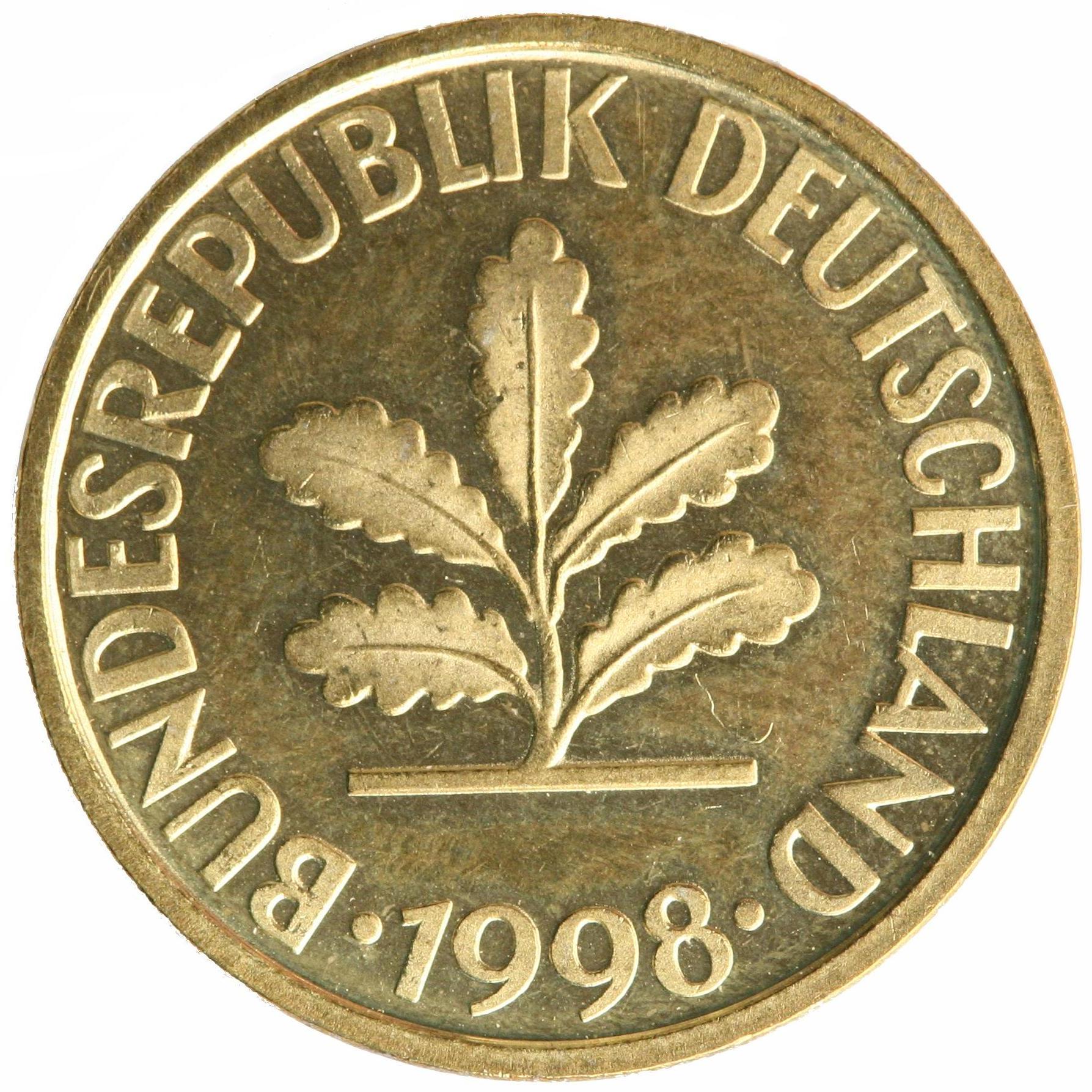 | | |
| --- | --- |
| Attribute | Specification |
| Coin | 10 pfennig |
| Metal | Brass-covered steel (copper-zinc alloy) |
| Diameter | 21.50mm |
| Width | 1.70mm |
| Mass | 4.00g |
| Edge | Smooth |
| Design | Adolf Jäger, Frankfurt am Main |
| In circulation since | 1949 |
50 Pfennig coin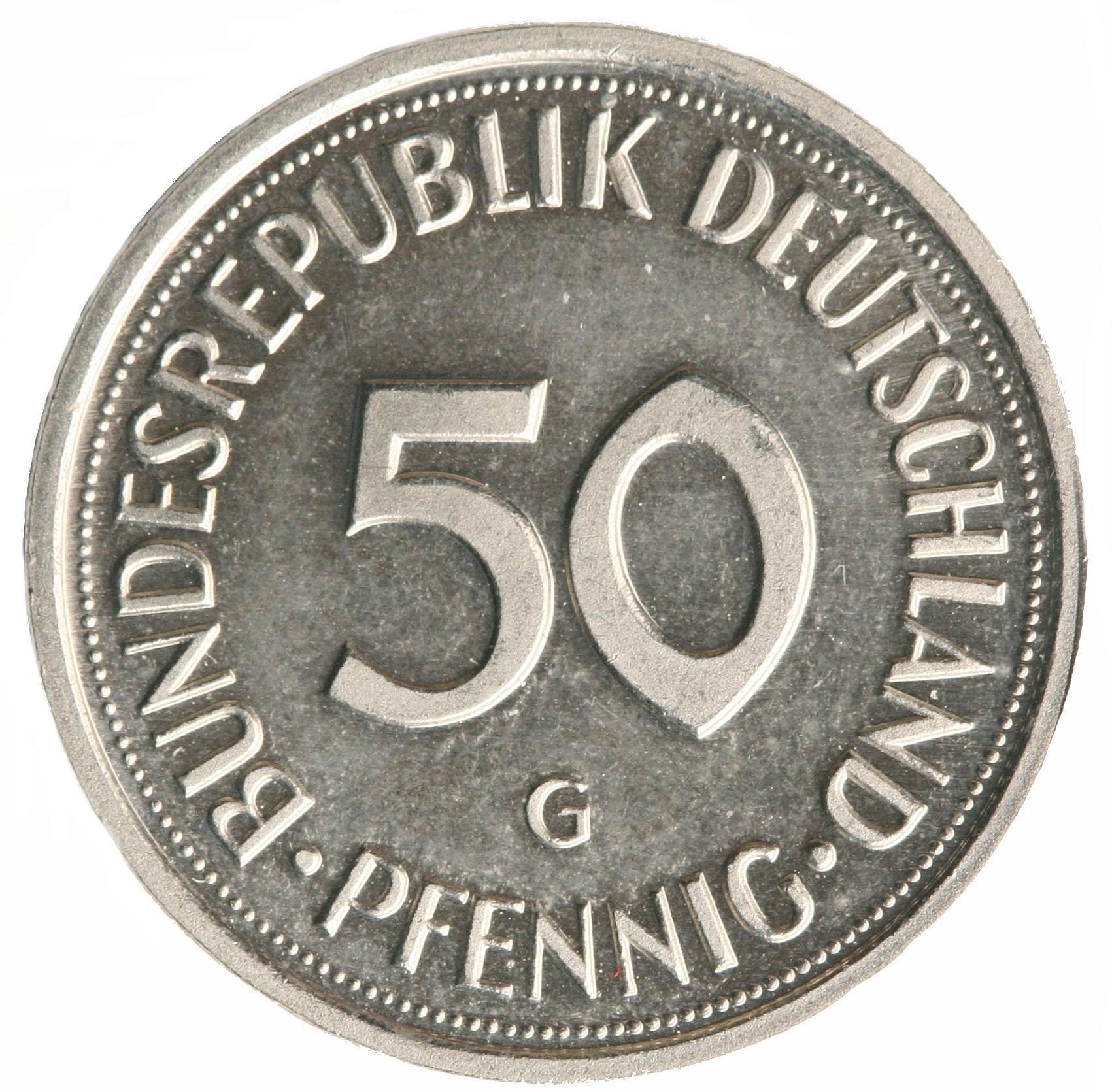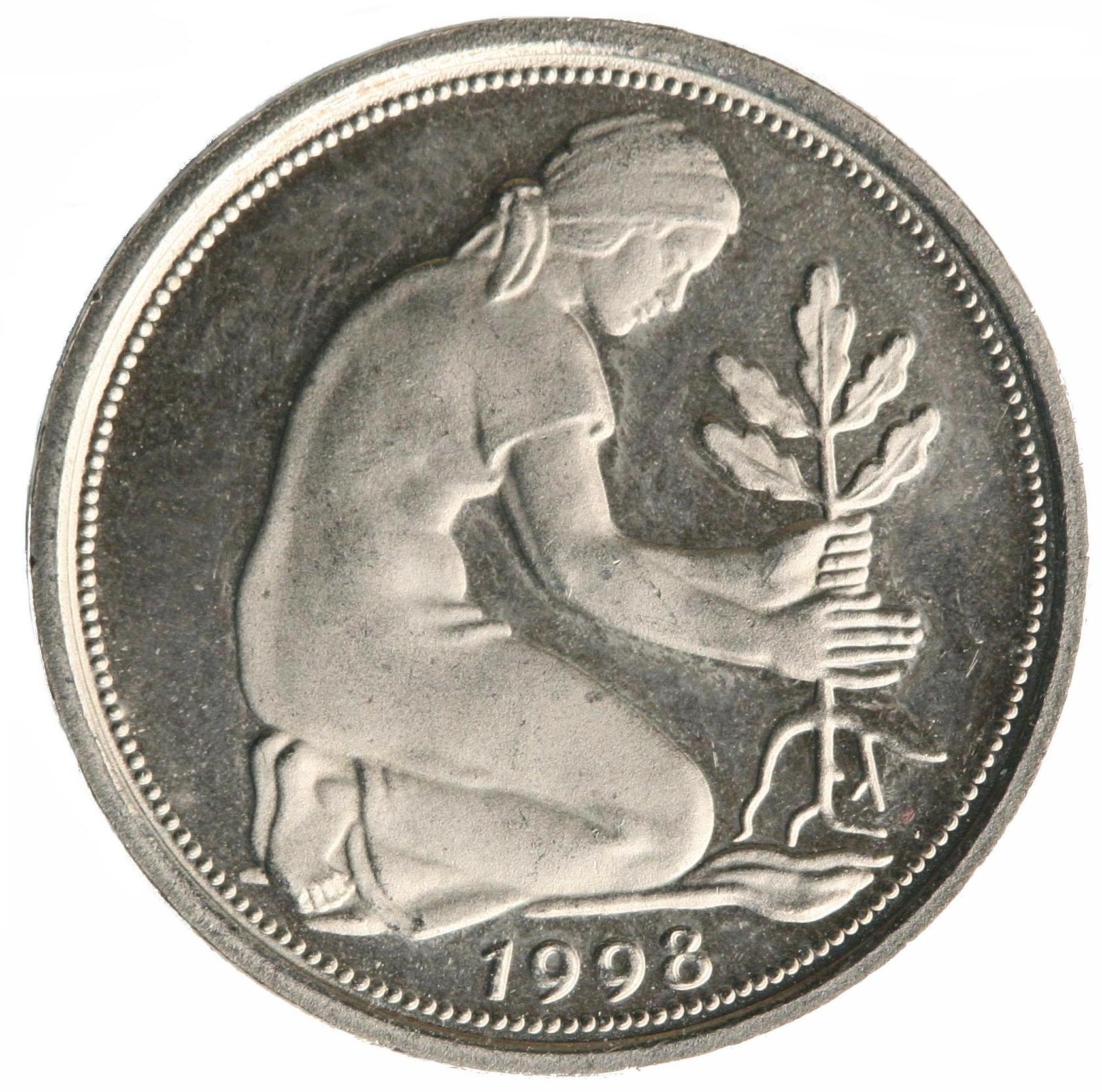 | | |
| --- | --- |
| Attribute | Specification |
| Coin | 50 pfennig |
| Metal | Copper-nickel alloy (Cu 75 Ni 25) |
| Diameter | 20.00mm |
| Width | 1.58mm |
| Mass | 3.50g |
| Edge | Until 1971 corrugated, from 1972 smooth |
| Design | Richard M Werner, Oberursel (Taunus) |
| In circulation since | 1949 |
1 Deutsche Mark Coin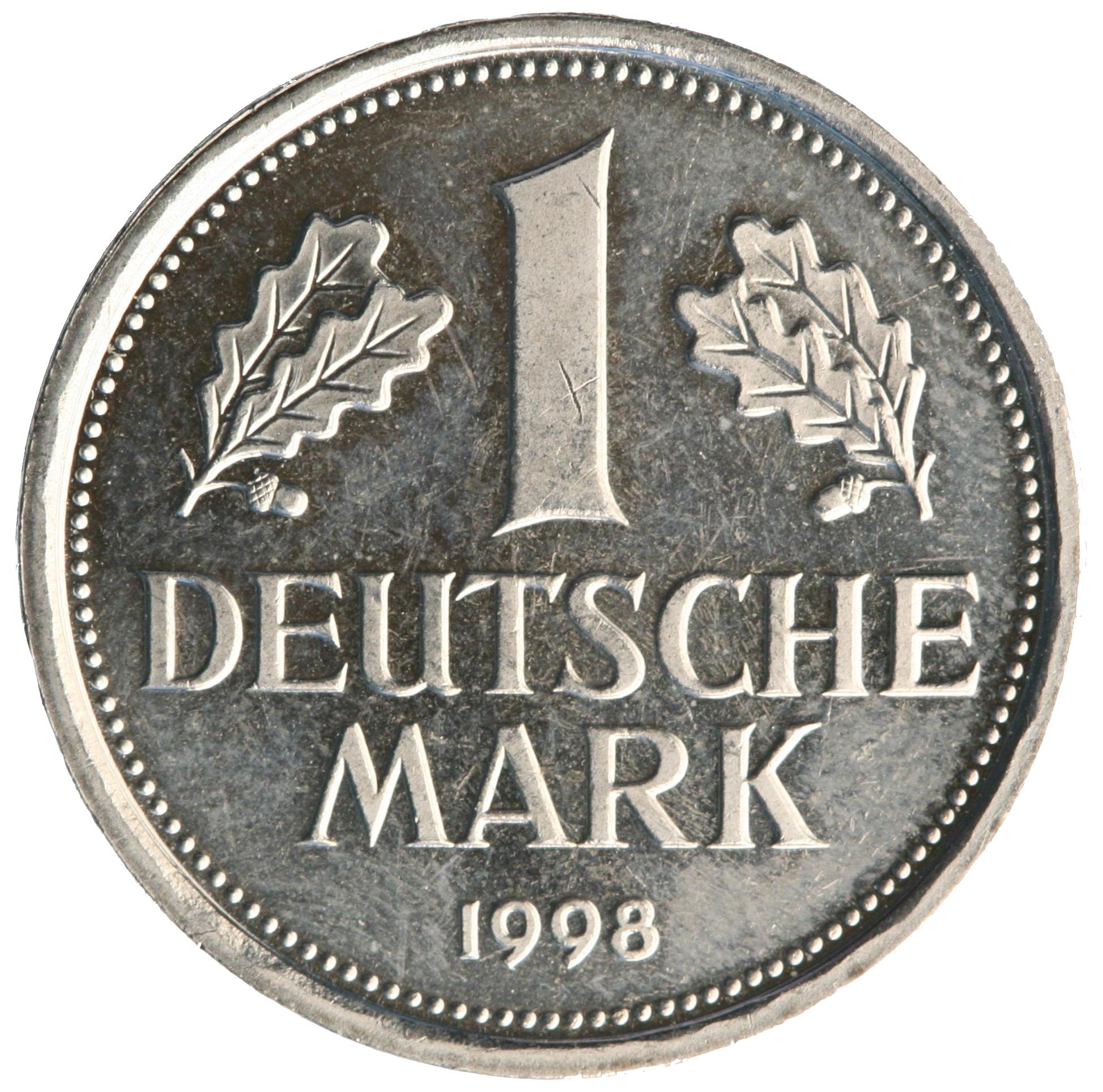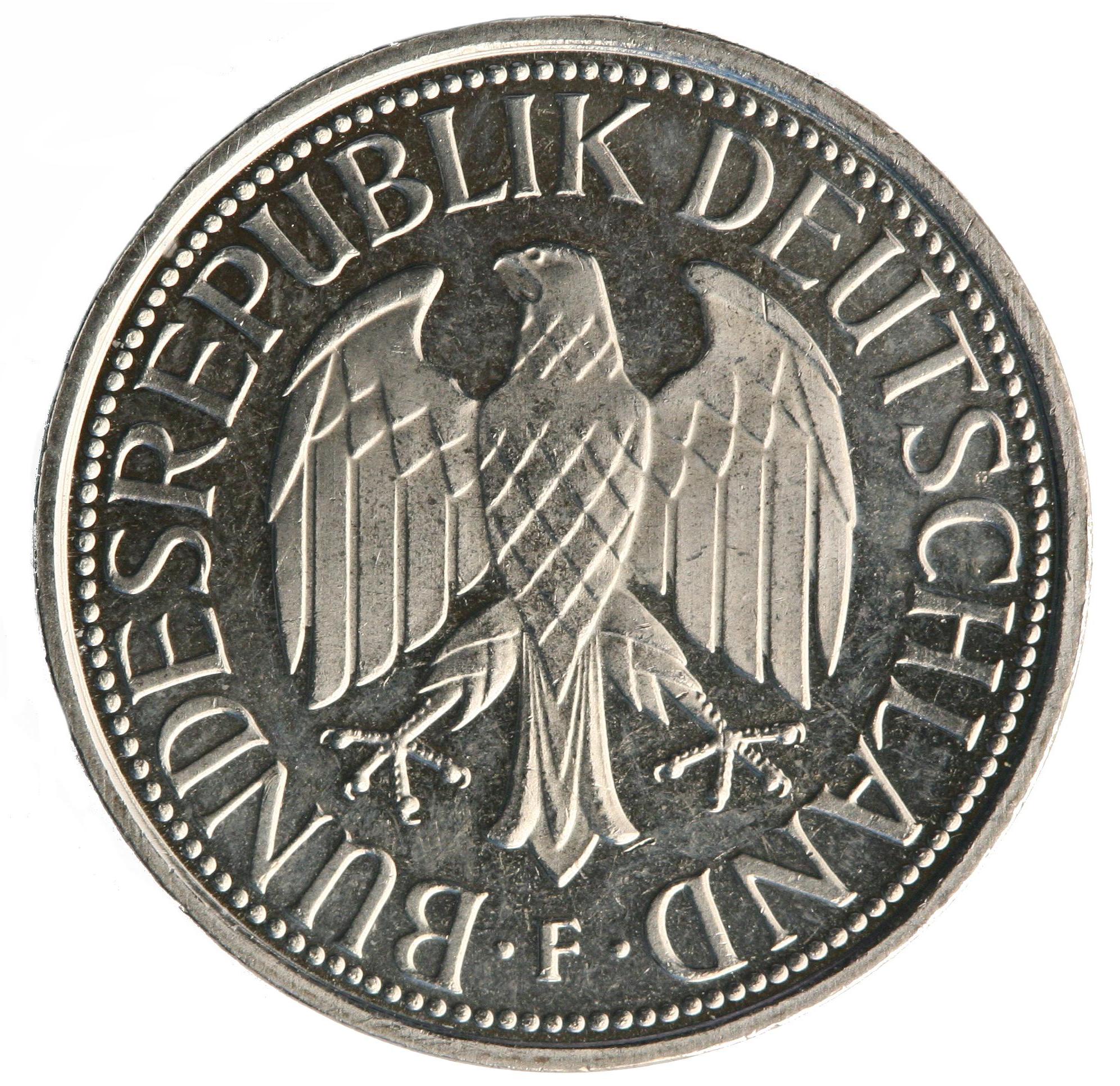 | | |
| --- | --- |
| Attribute | Specification |
| Coin | 1 Deutsche Mark |
| Metal | Copper-nickel alloy |
| Diameter | 23.50mm |
| Width | 1.75mm |
| Mass | 5.50g |
| Edge | Arabesque |
| Design | Josef Bernhart, Munich |
| In circulation since | 1950 |
2 Deutsche Mark Coin
1st series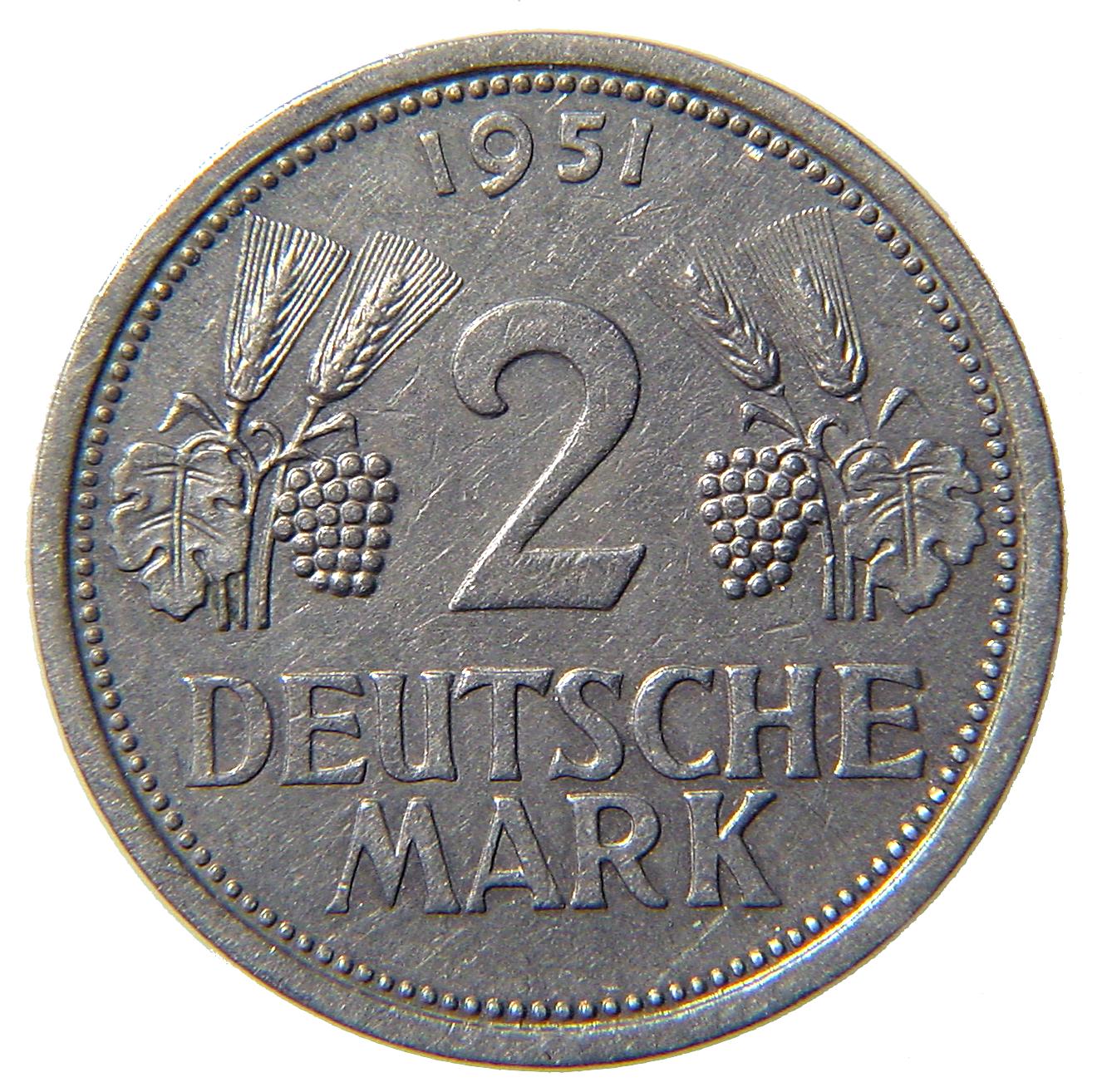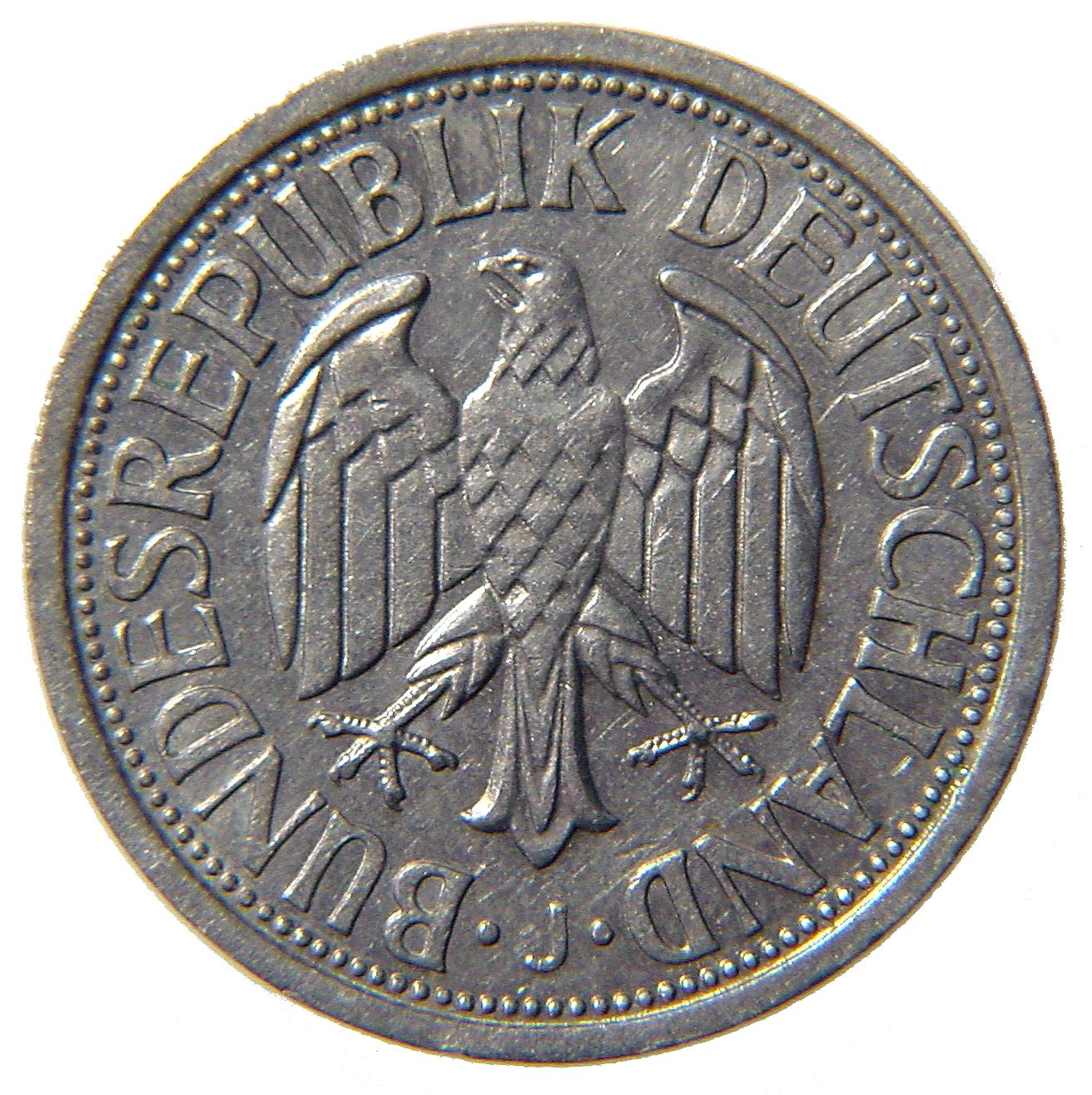 | | |
| --- | --- |
| Attribute | Specification |
| Coin | 2 Deutsche Mark, 1st series – withdrawn from circulation |
| Metal | Copper-nickel alloy (Cu 75 Ni 25) |
| Diameter | 25.50 mm |
| Width | 1.87 mm |
| Mass | 7.00 g |
| Edge | "Einigkeit und Recht und Freiheit" (unity, justice and freedom) |
| Design | Josef Bernhart, Munich |
| Out of circulation since | 1 July 1958 |
2nd series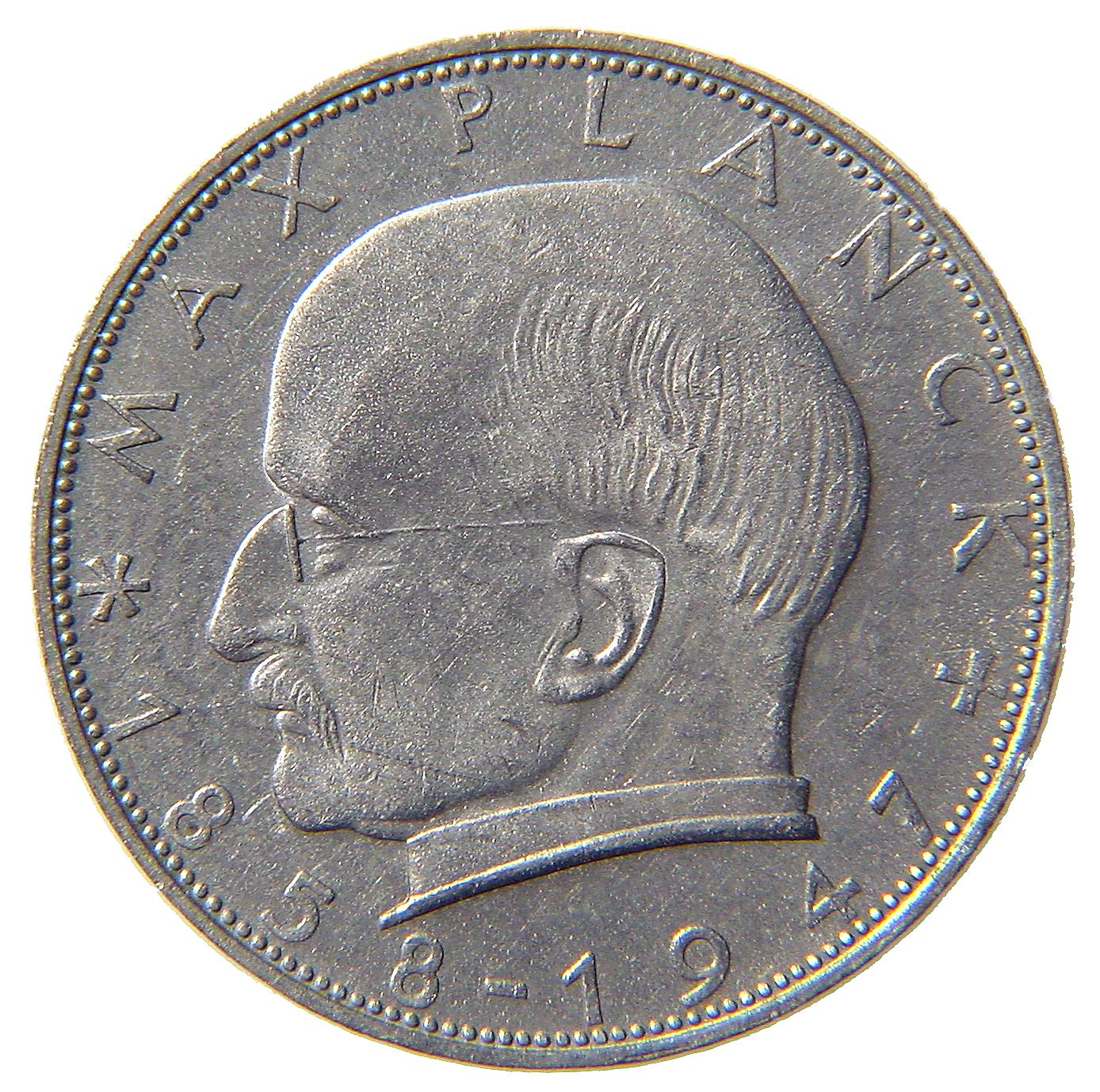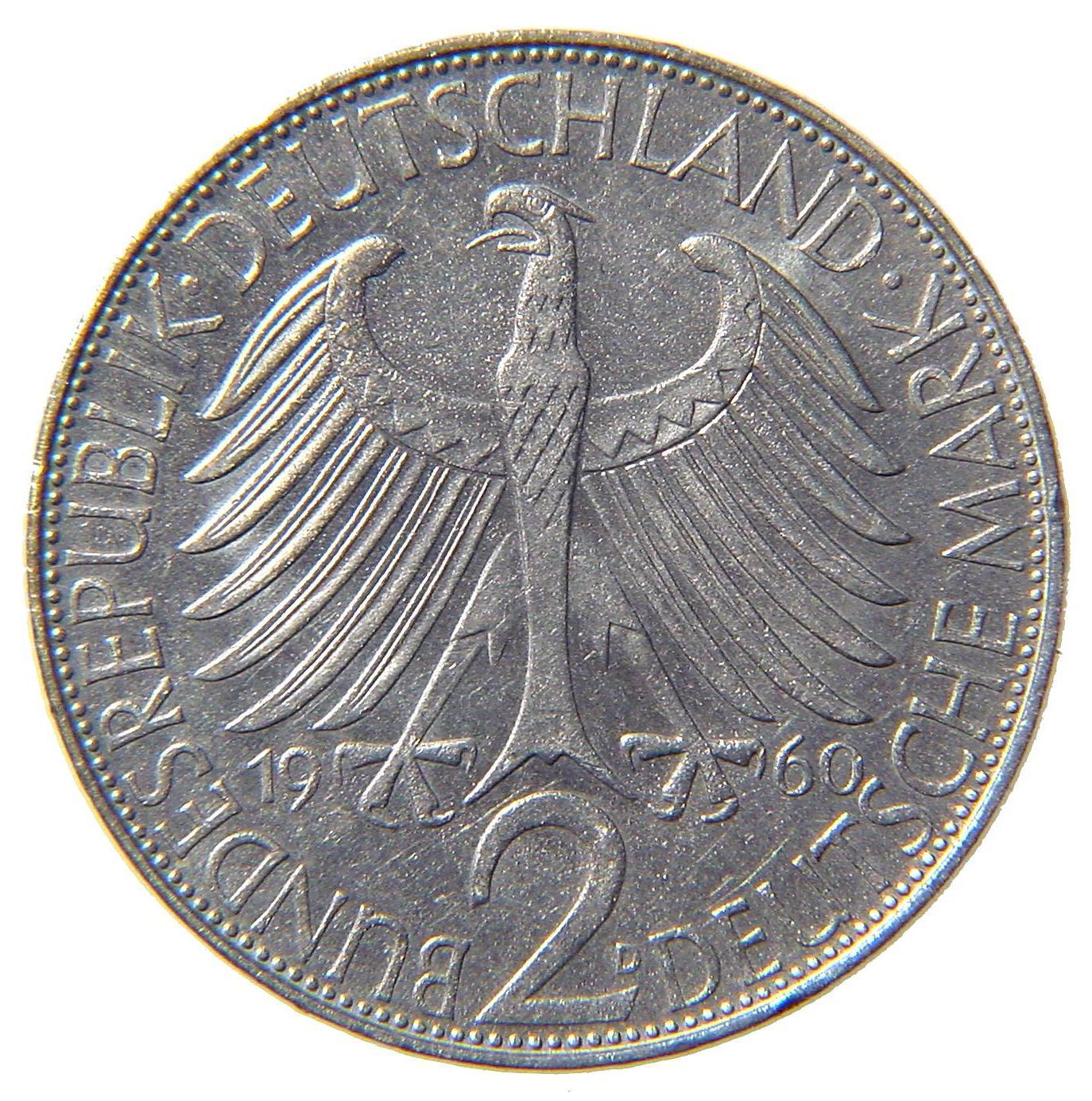 | | |
| --- | --- |
| Attribute | Specification |
| Coin | 2 Deutsche Mark, 2nd series – withdrawn from circulation |
| Metal | Copper-nickel alloy (Cu 75 Ni 25) |
| Diameter | 26.75 mm |
| Width | 1.79 mm |
| Mass | 7.00 g |
| Picture | Professor Dr Max Planck |
| Edge | "Einigkeit und Recht und Freiheit" (unity, justice and freedom) |
| Design | Karl Roth, Munich |
| Out of circulation since | 1 August 1973 |
3rd series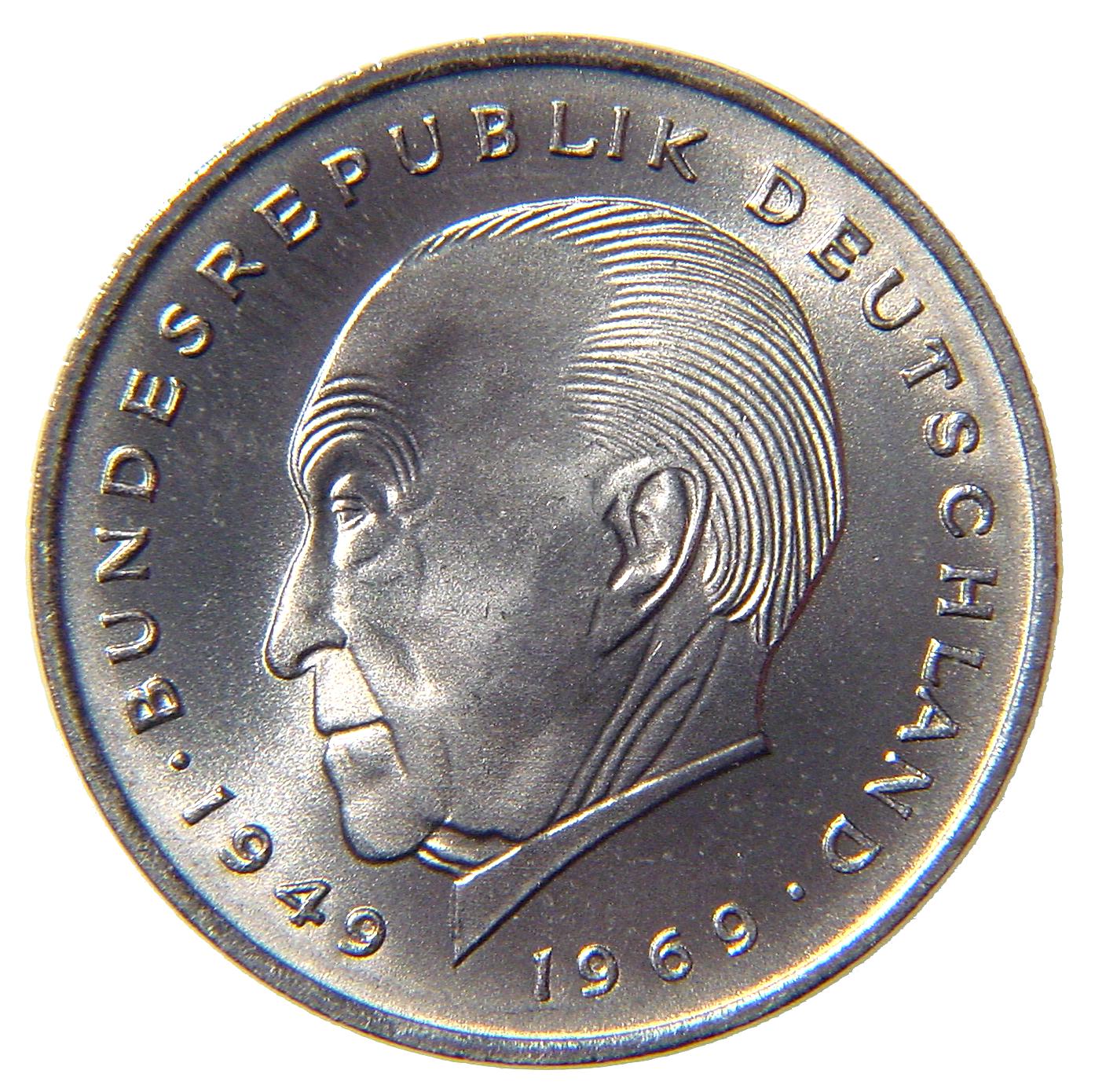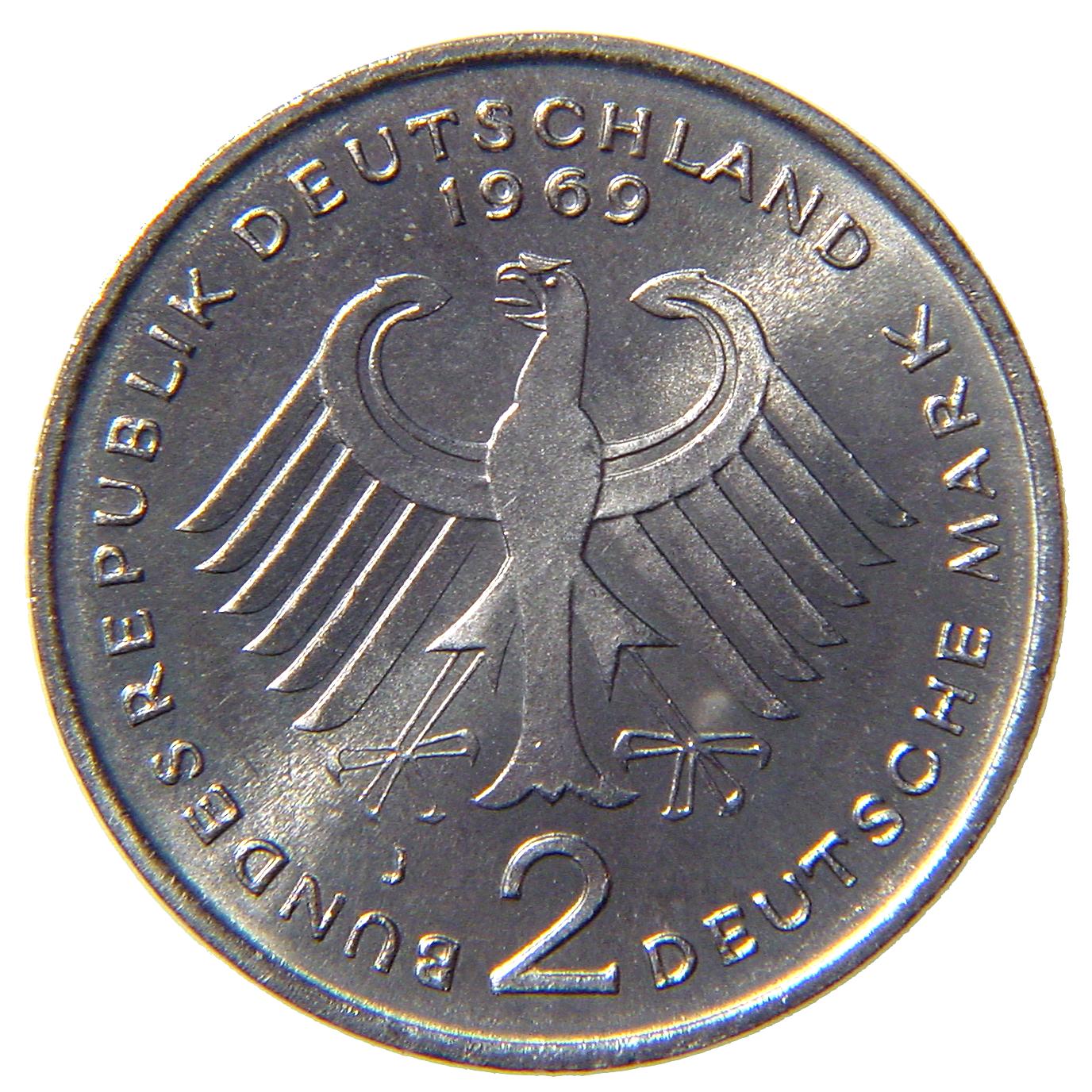 | | |
| --- | --- |
| Attribute | Specification |
| Coin | 2 Deutsche Mark, 3rd series |
| Metal | Magnimat (3-layered material) |
| Top layer | Copper-nickel alloy |
| Diameter | 26.75 mm |
| Width | 1.79 mm |
| Mass | 7.00 g |
| Core | Nickel |
| Picture | Dr Konrad Adenauer |
| Edge | "Einigkeit und Recht und Freiheit" (unity, justice and freedom) |
| Design | Reinhart Heinsdorff, Lehen/Württ. |
| In circulation since | 1970 |
4th series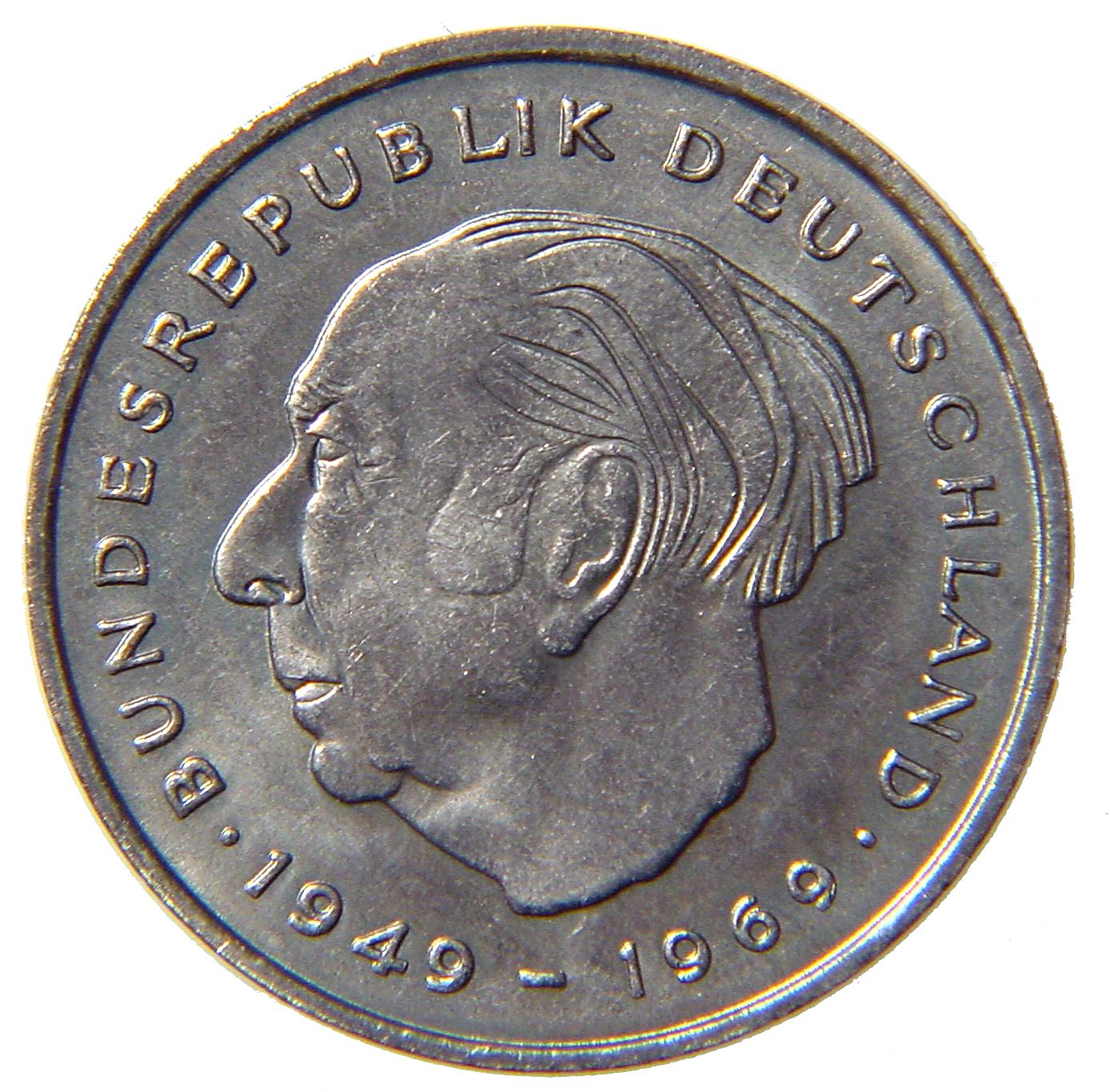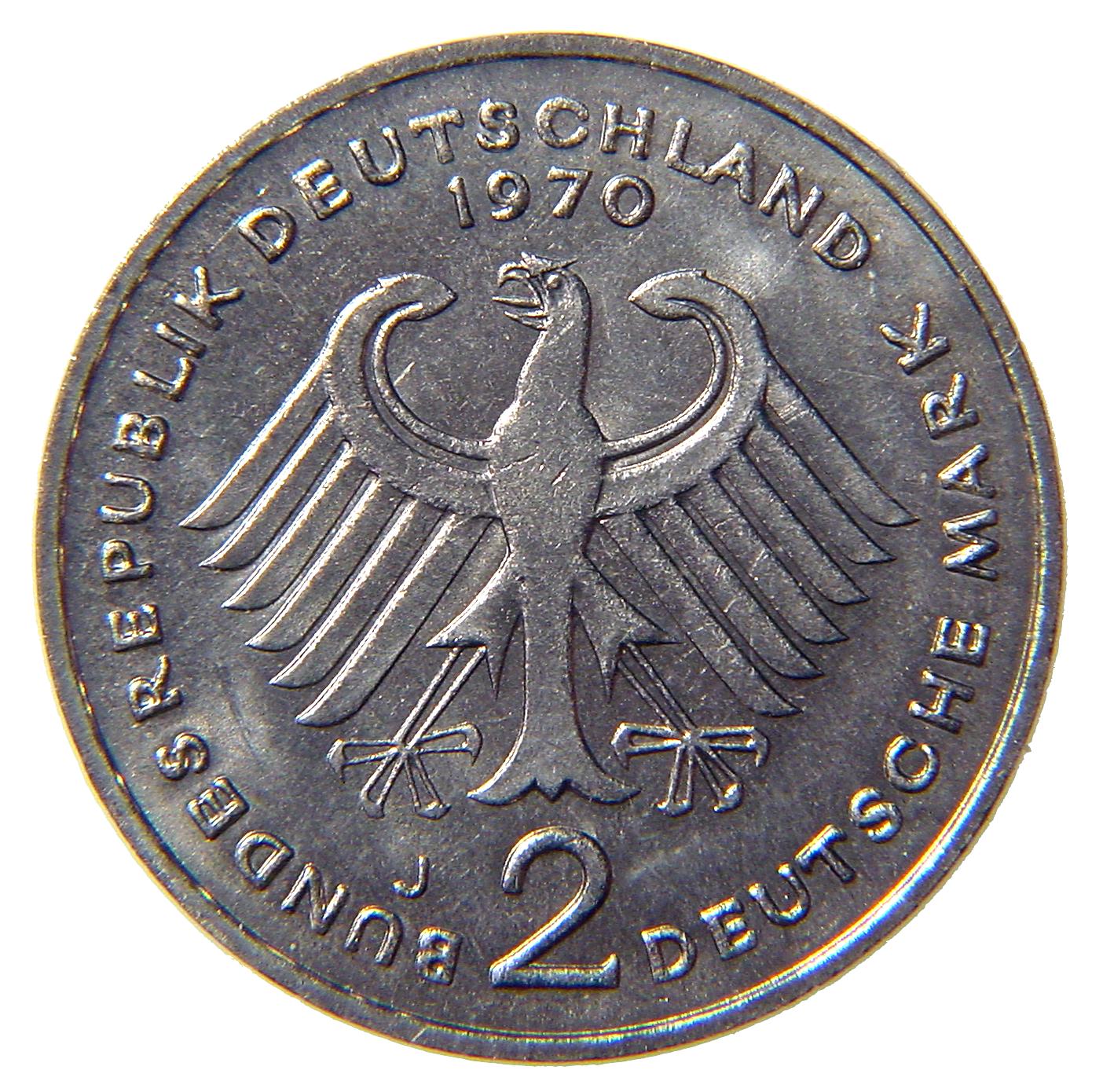 | | |
| --- | --- |
| Attribute | Specification |
| Coin | 2 Deutsche Mark, 4th series |
| Metal | Magnimat (3-layered material) |
| Top layer | Copper-nickel alloy |
| Diameter | 26.75 mm |
| Width | 1.79 mm |
| Mass | 7.00 g |
| Core | Nickel |
| Picture | Professor Dr Theodor Heuss |
| Edge | "Einigkeit und Recht und Freiheit" (unity, justice and freedom) |
| Design | Karl-Ulrich Nuss, Strümpfelbach/Württ. (picture side), Reinhart Heinsdorff, Lehen/Württ. (denomination side) |
| In circulation since | 1973 |
5th series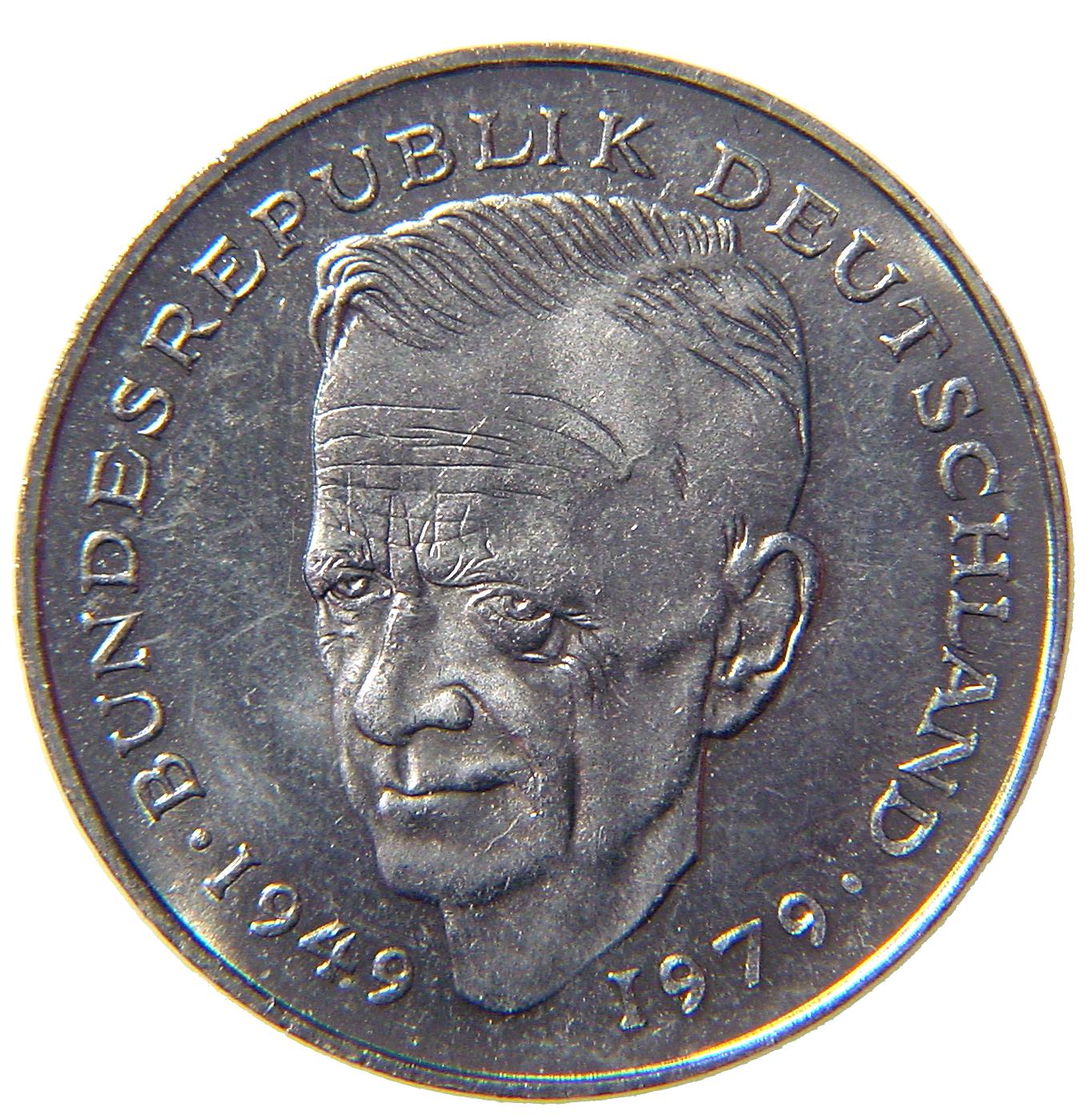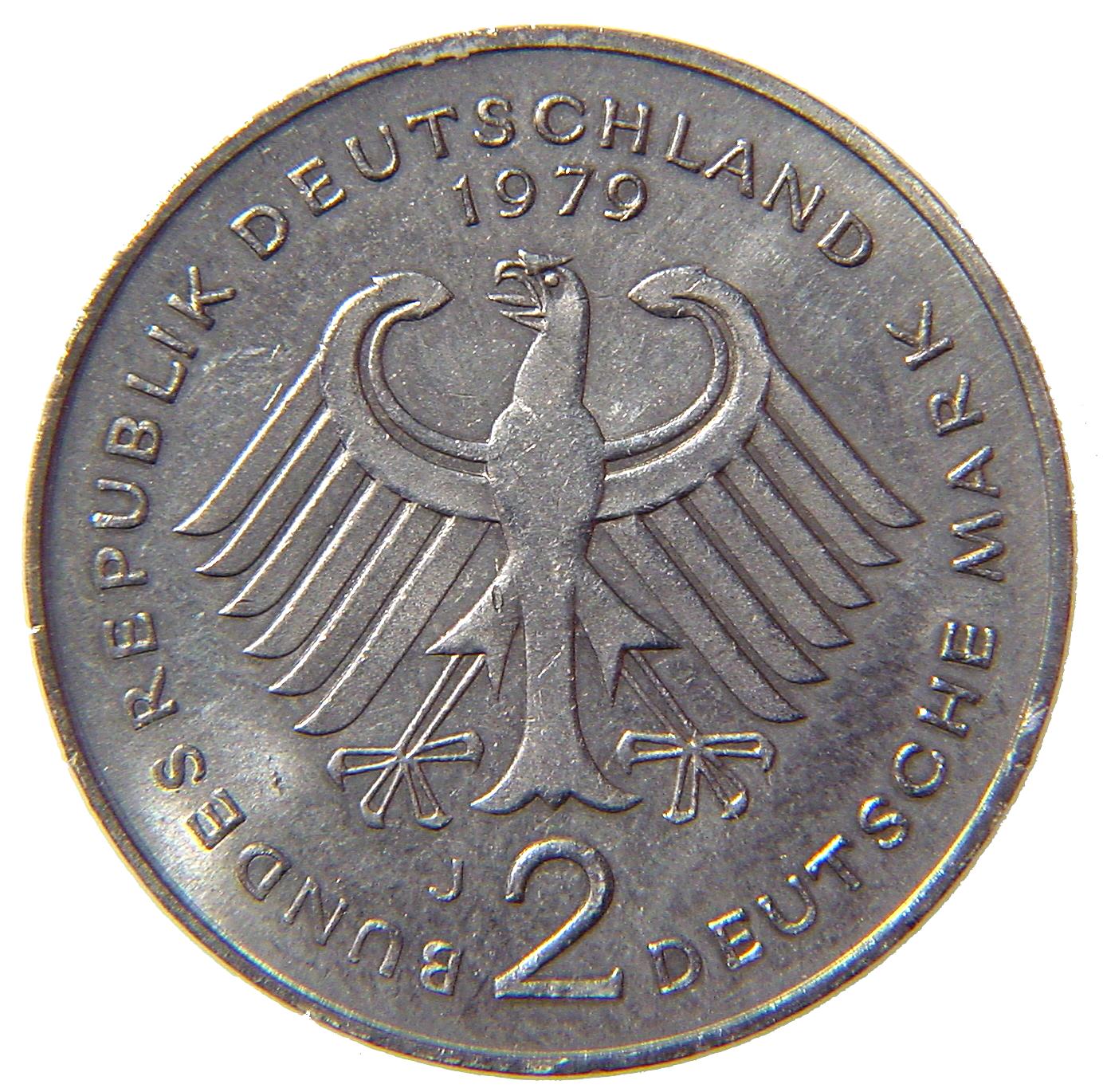 | | |
| --- | --- |
| Attribute | Specification |
| Coin | 2 Deutsche Mark, 5th series |
| Metal | Magnimat (3-layered material) |
| Top layer | Copper-nickel alloy |
| Diameter | 26.75 mm |
| Width | 1.79 mm |
| Mass | 7.00 g |
| Core | Nickel |
| Picture | Dr Kurt Schumacher |
| Edge | "Einigkeit und Recht und Freiheit" (unity, justice and freedom) |
| Design | Hans-Joachim Dobler, Walda über Neuburg/Donau (picture side), Reinhart Heinsdorff, Lehen/Württ. (denomination side) |
| In circulation since | 1979 |
6th series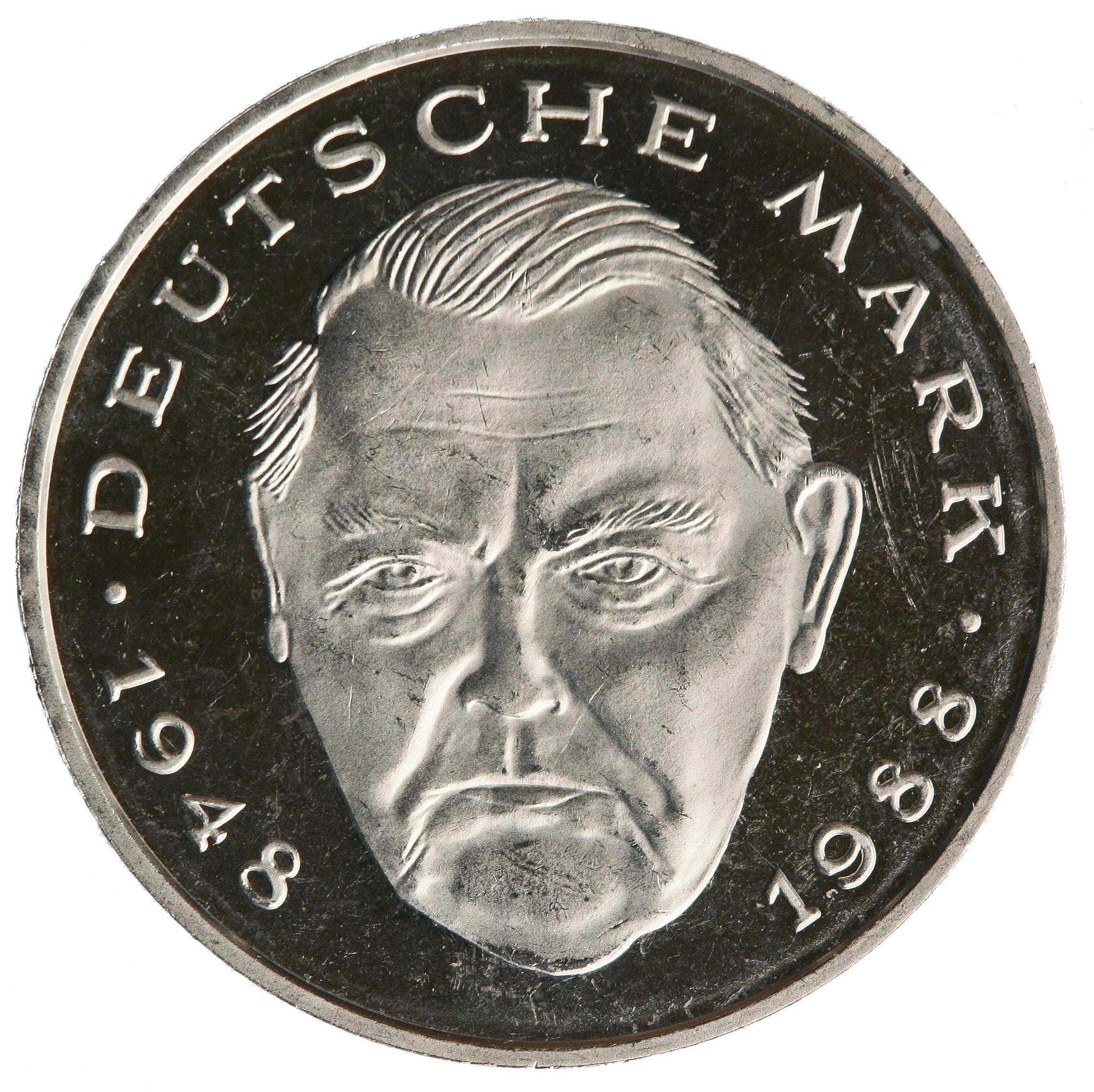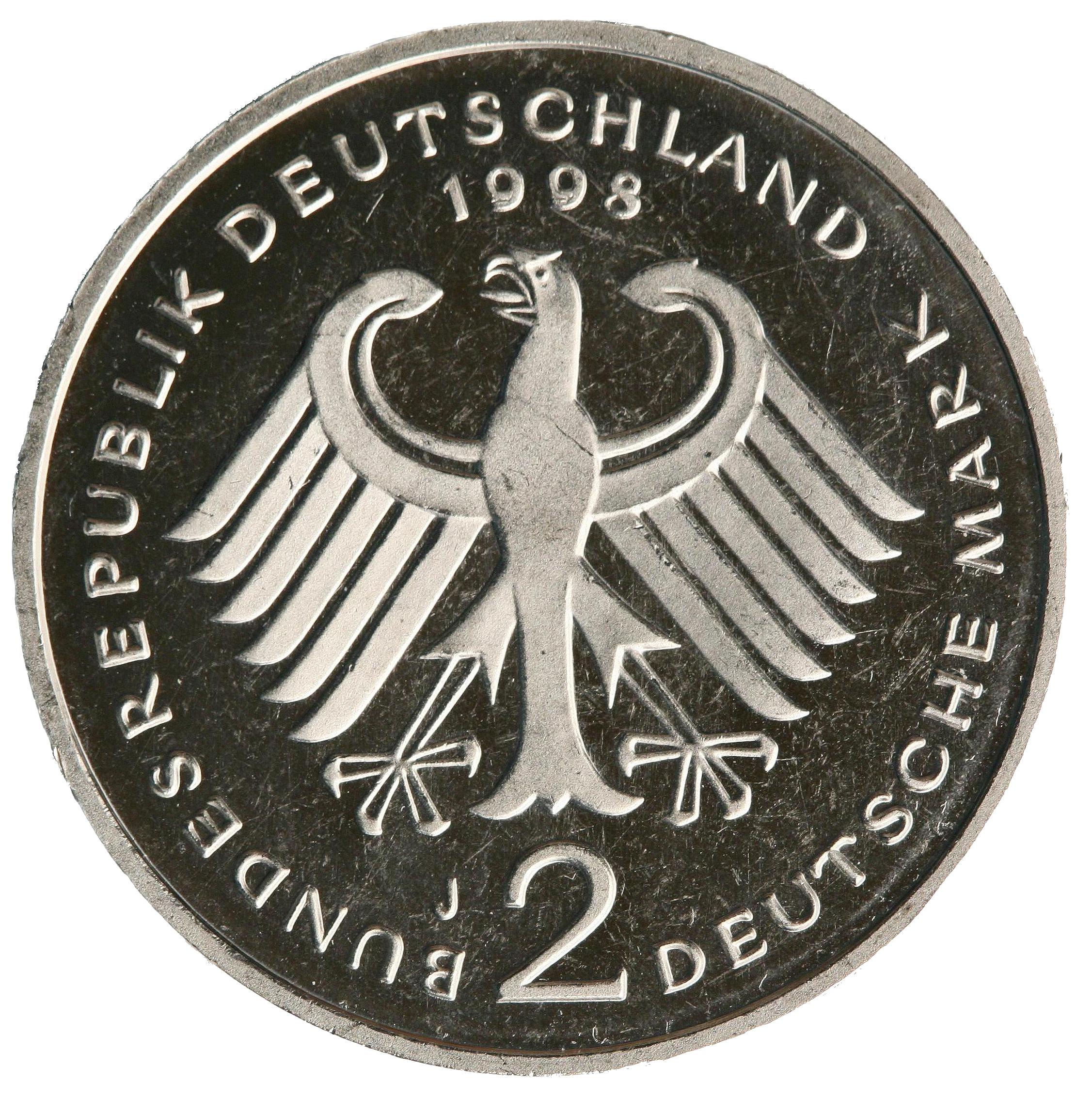 | | |
| --- | --- |
| Attribute | Specification |
| Coin | 2 Deutsche Mark, 6th series |
| Metal | Magnimat (3-layered material) |
| Top layer | Copper-nickel alloy |
| Diameter | 26.75 mm |
| Width | 1.79 mm |
| Mass | 7.00 g |
| Core | Nickel |
| Picture | Professor Dr Ludwig Erhard |
| Edge | "Einigkeit und Recht und Freiheit" (unity, justice and freedom) |
| Design | Franz Müller, Munich (picture side), Reinhart Heinsdorff, Lehen/Württ. (denomination side) |
| In circulation since | 1978 |
7th series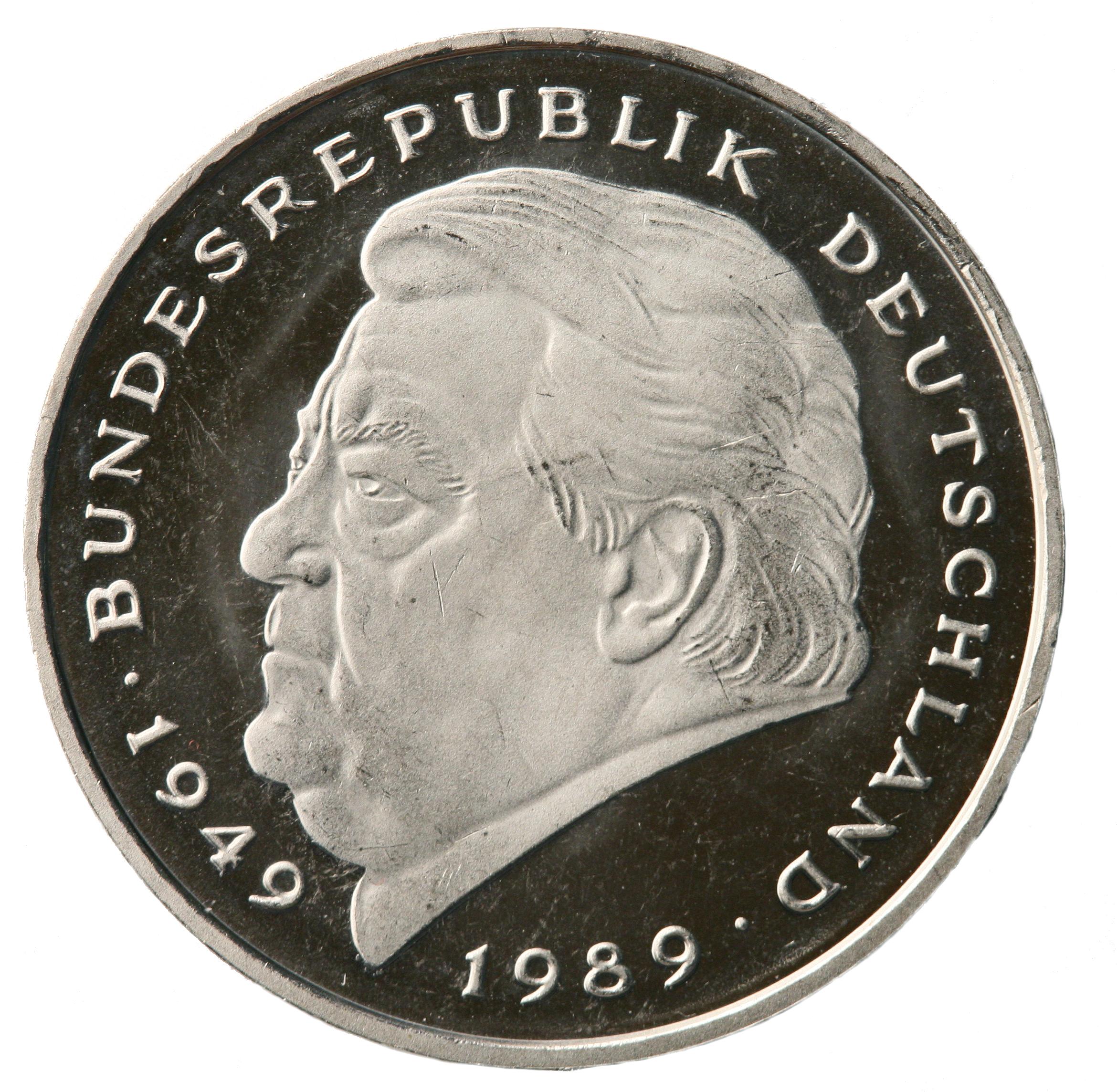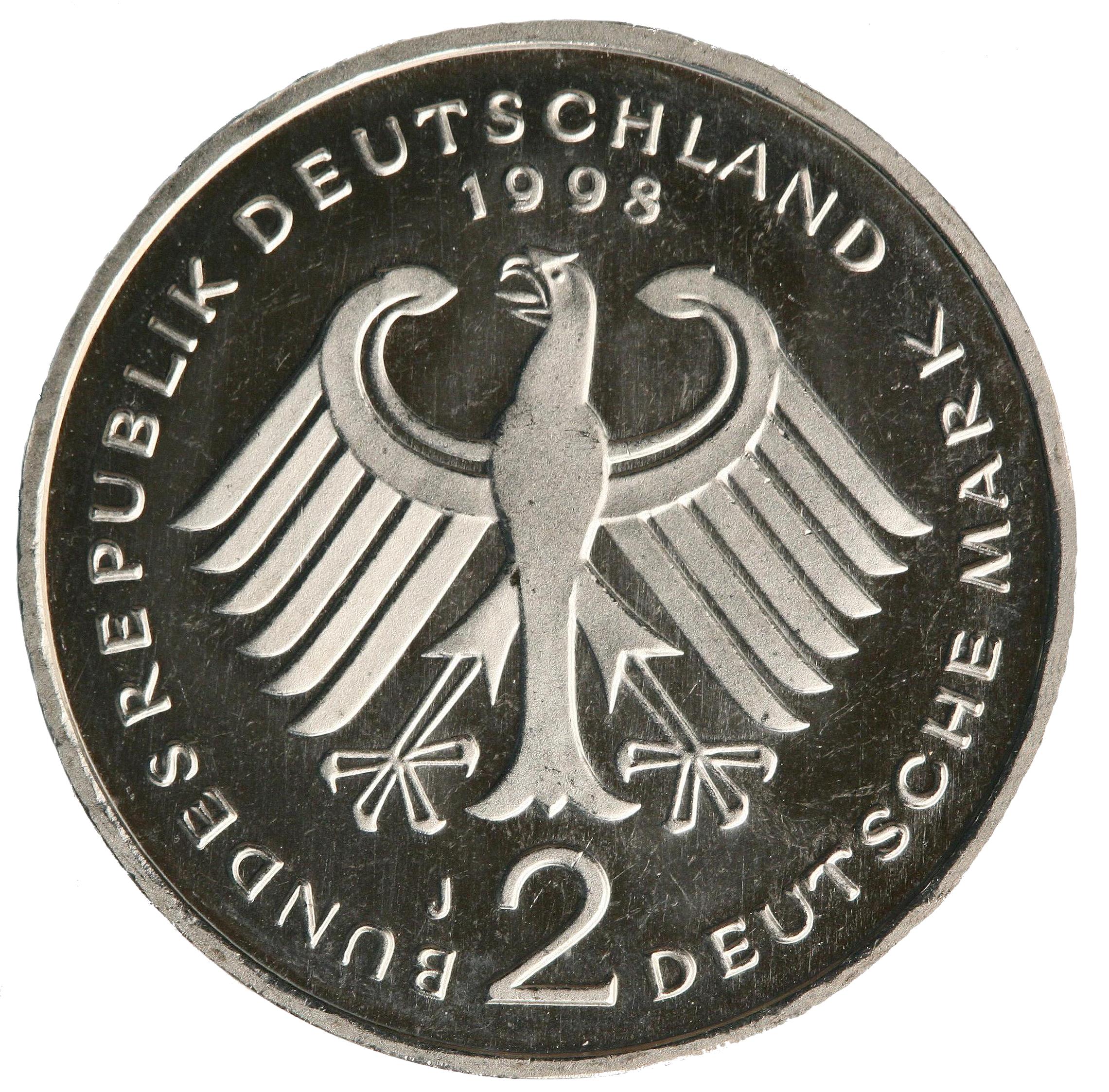 | | |
| --- | --- |
| Attribute | Specification |
| Coin | 2 Deutsche Mark, 7th series |
| Metal | Magnimat (3-layered material) |
| Top layer | Copper-nickel alloy |
| Diameter | 26.75 mm |
| Width | 1.79 mm |
| Mass | 7.00 g |
| Core | Nickel |
| Picture | Dr hc Franz Josef Strauß |
| Edge | "Einigkeit und Recht und Freiheit" (unity, justice and freedom) |
| Design | Erich Ott, Munich (picture side), Reinhart Heinsdorff, Lehen/Württ. (denomination side) |
| In circulation since | 1990 |
8th series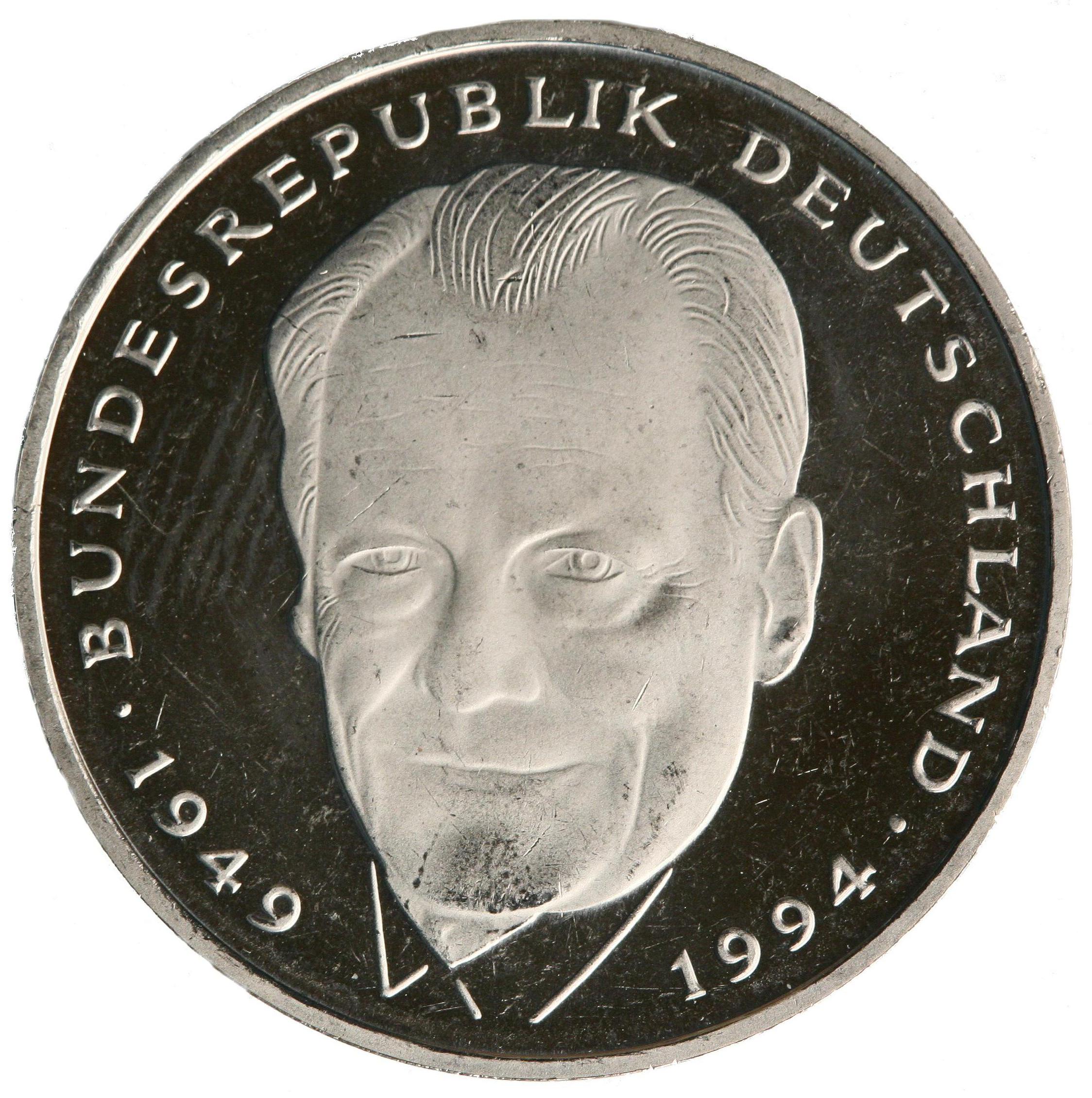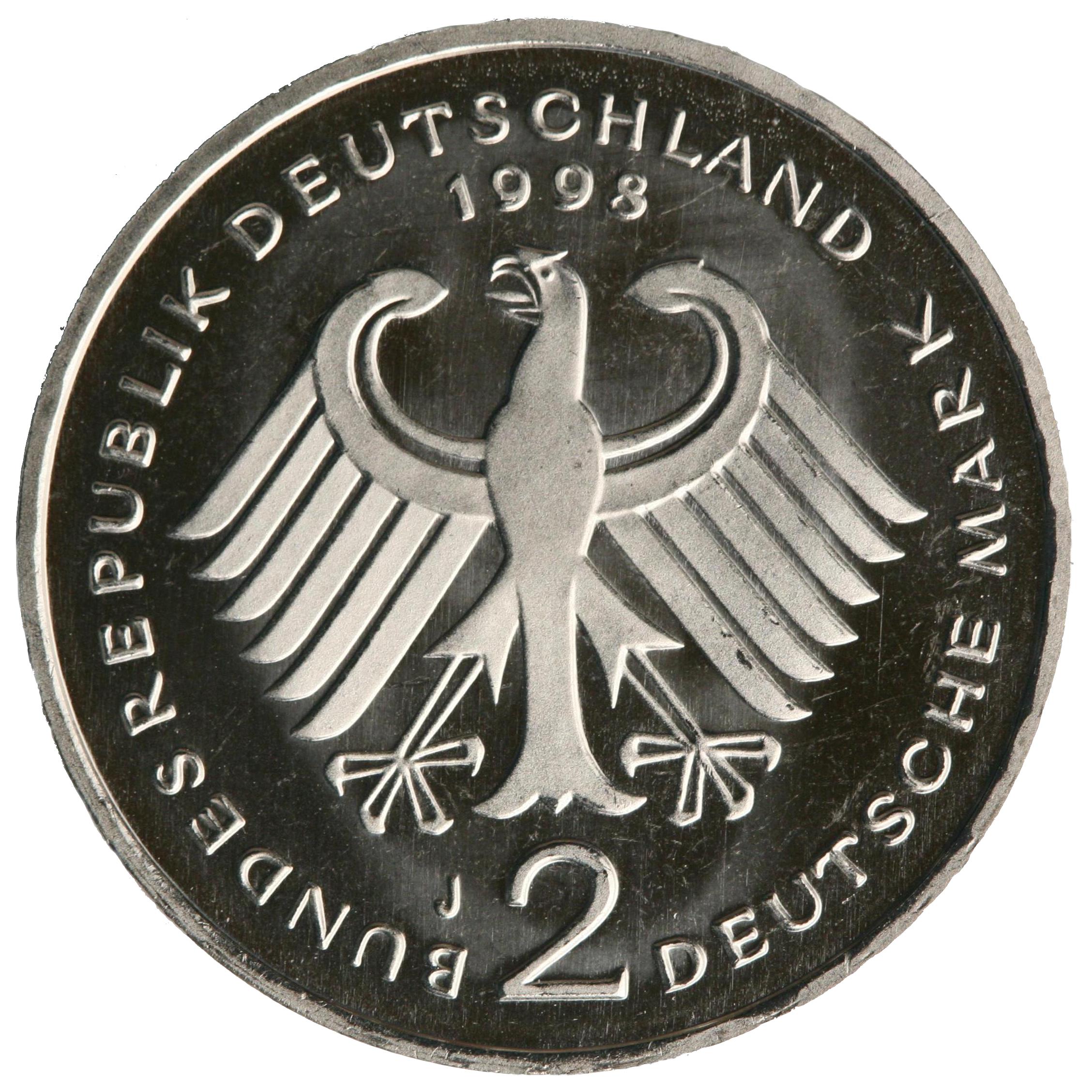 | | |
| --- | --- |
| Attribute | Specification |
| Coin | 2 Deutsche Mark, 8th series |
| Metal | Magnimat (3-layered material) |
| Top layer | Copper-nickel alloy |
| Diameter | 26.75 mm |
| Width | 1.79 mm |
| Mass | 7.00 g |
| Core | Nickel |
| Picture | Willy Brandt |
| Edge | "Einigkeit und Recht und Freiheit" (unity, justice and freedom) |
| Design | Hubert Klinkel (picture side), Reinhart Heinsdorff, Lehen/Württ. (denomination side) |
| In circulation since | 1994 |
5 Deutsche Mark-Coin
1st series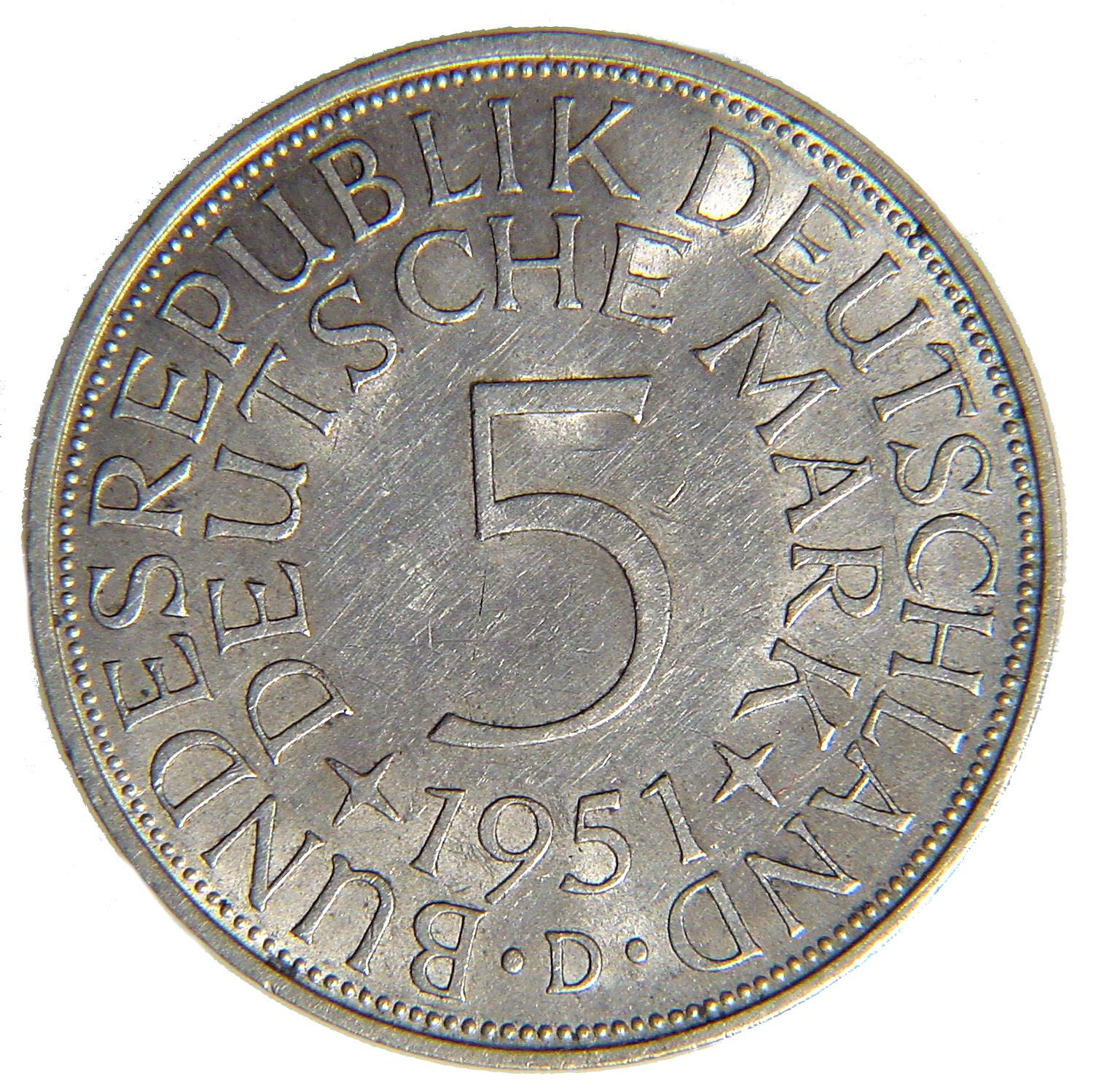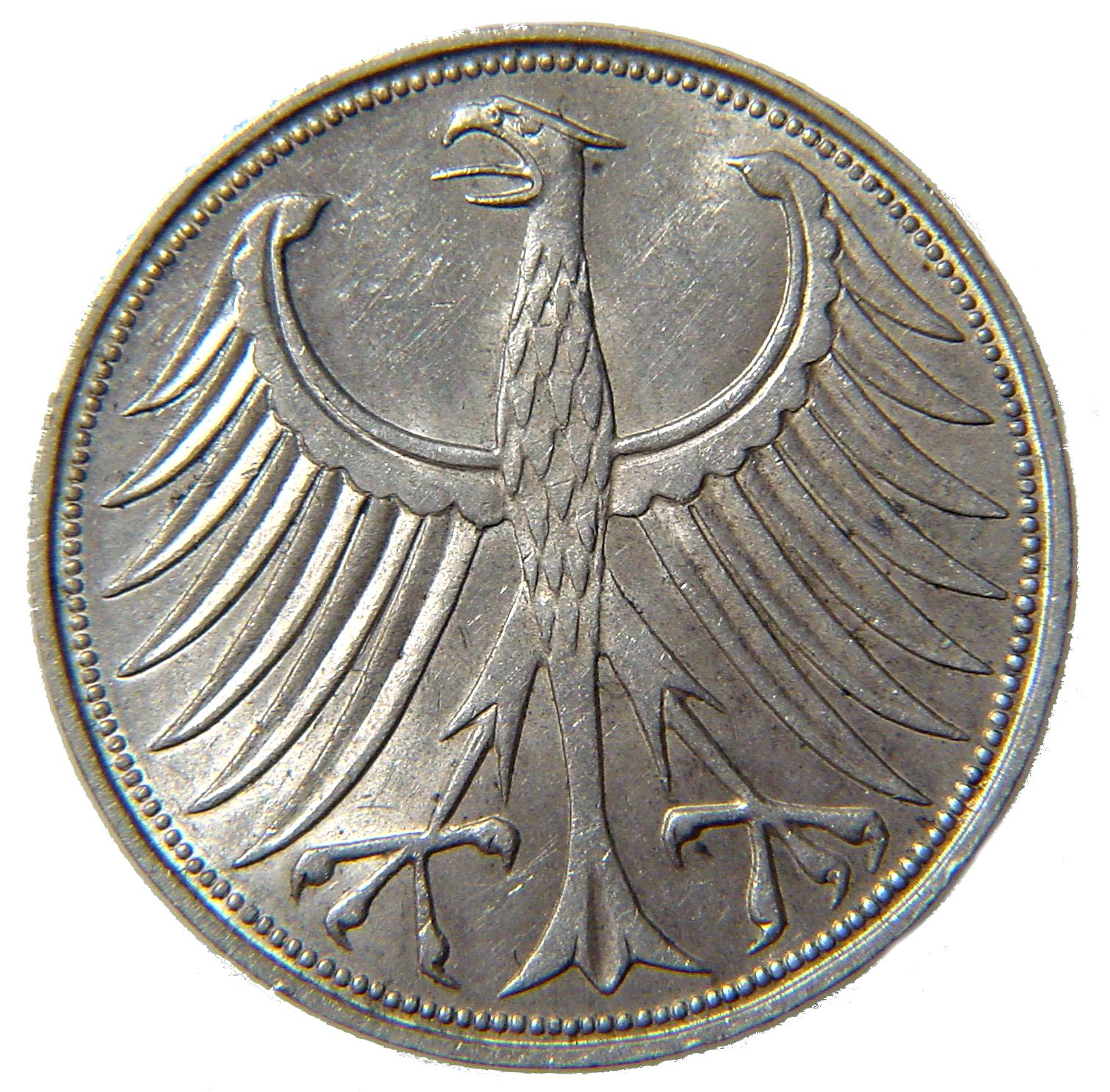 | | |
| --- | --- |
| Attribute | Specification |
| Coin | 5 Deutsche Mark, 1st series – withdrawn from circulation |
| Metal | Silver-copper alloy (Ag 625 Cu 375) |
| Diameter | 29.00 mm |
| Width | 2.07 mm |
| Mass | 11.20 g |
| Edge | "Einigkeit und Recht und Freiheit" (unity, justice and freedom) |
| Design | Albert Holl, Schwäbisch Gmünd |
| Out of circulation since | 1 August 1975 |
2nd series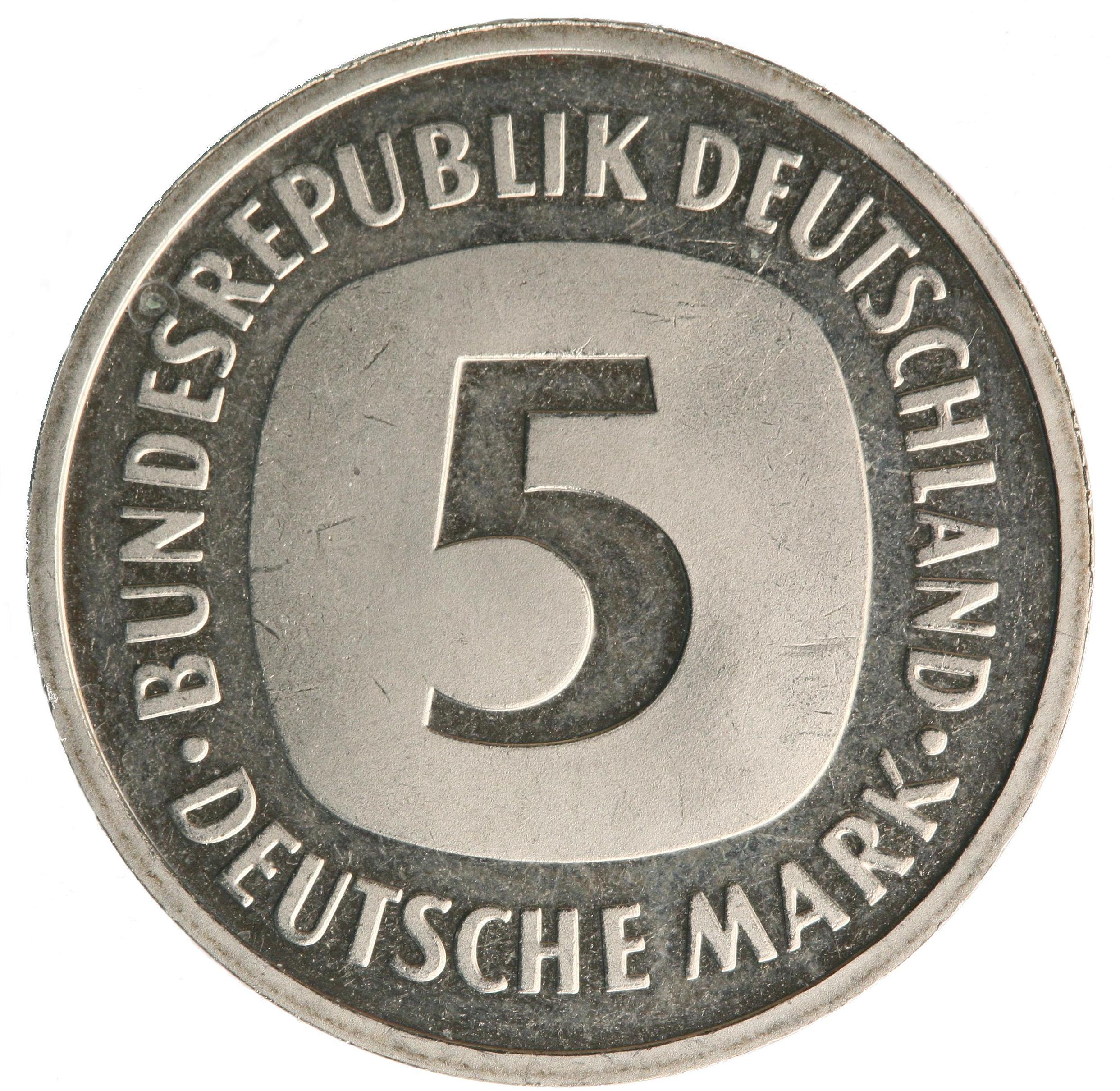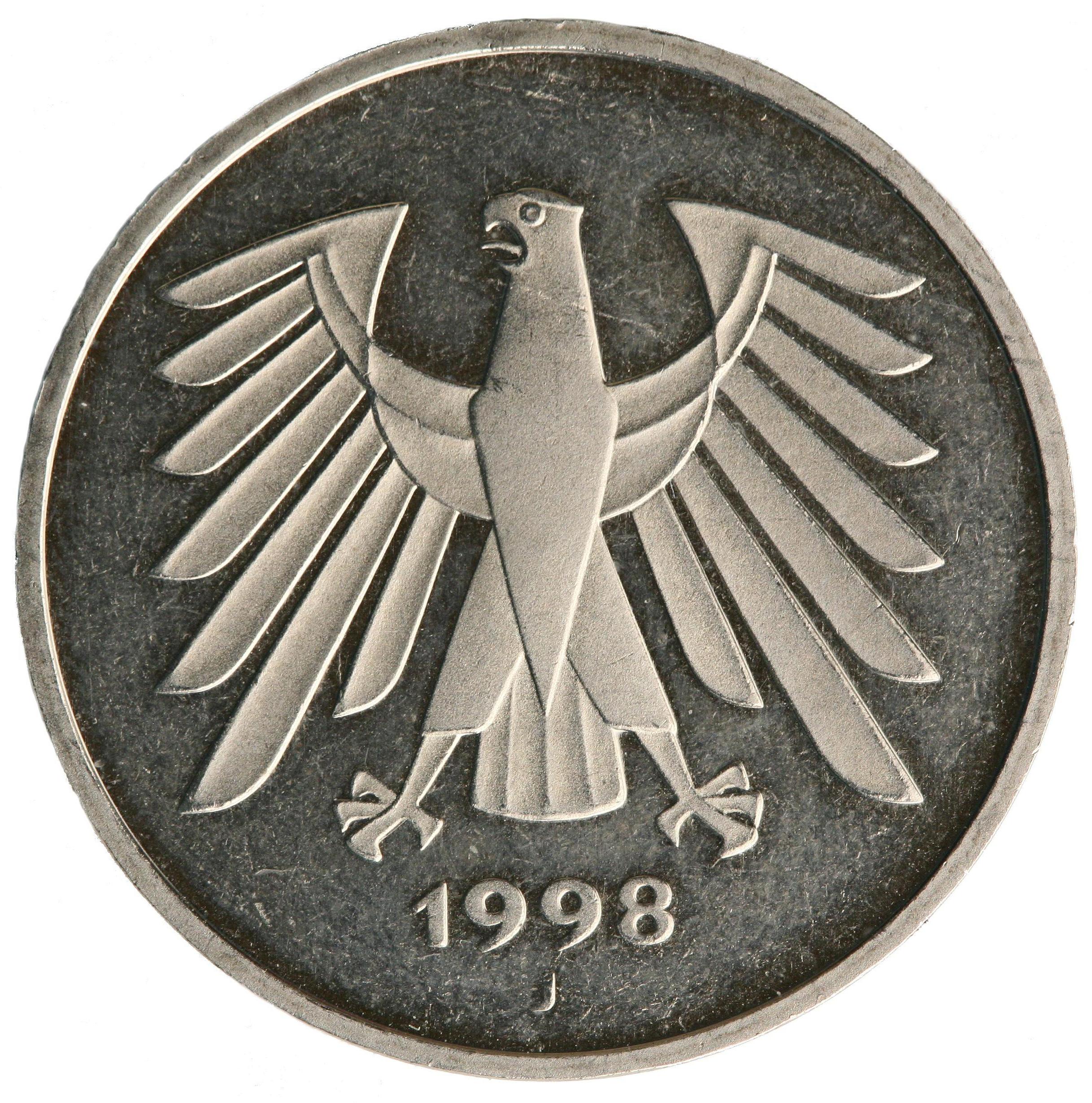 | | |
| --- | --- |
| Attribute | Specification |
| Coin | 5 Deutsche Mark, 2nd series |
| Metal | Magnimat (Dreischichtenwerkstoff) |
| Top layer | Copper-nickel alloy |
| Diameter | 29.00 mm |
| Width | 2.07 mm |
| Mass | 10.00 g |
| Core | Nickel |
| Edge | "Einigkeit und Recht und Freiheit" (unity, justice and freedom) |
| Design | Wolfgang Doehm, Stuttgart |
| In circulation since | 1975 |