Visitor Information
Opening hours
Monday to Friday
Saturday
Sundays and holidays
9.00 to 17.00
closed
9.00 to 17.00
closed:
19 April 2019
21 April 2019
1 May 2019
10, 12, 13 May 2019
Admission is free.
The museum is barrier-free.
How to get there
The Money Museum is located at the Bundesbank's Central Office in the Ginnheim district of Frankfurt.
Getting there by public transport
From the main railway station (Hauptbahnhof) take the underground line
U4 (direction: Seckbacher Landstraße) or
U5 (direction: Preungesheim)
to Willy-Brandt-Platz. Transfer from there to lines
U1 (direction: Ginnheim),
U2 (direction: Bad Homburg-Gonzenheim),
U3 (direction: Oberursel-Hohemark) or
U8 (direction: Riedberg).
Get off at "Dornbusch". From there, you can either take the 34 bus (direction: Mönchhofstraße) to "Deutsche Bundesbank" or walk roughly 500 metres down the street "Am Dornbusch".
Getting there by car
Take the A5 motorway to Nordwestkreuz Frankfurt. Use that interchange to get onto the A66 in the direction of Miquelallee/Stadtmitte. Take the Miquelallee exit and then follow the signs saying "Deutsche Bundesbank". The entrance to the Money Museum is located some 100 meters from the Bundesbank's main gate. Limitied visitor parking is available in front of the museum; parking spaces for buses are also available.
Route map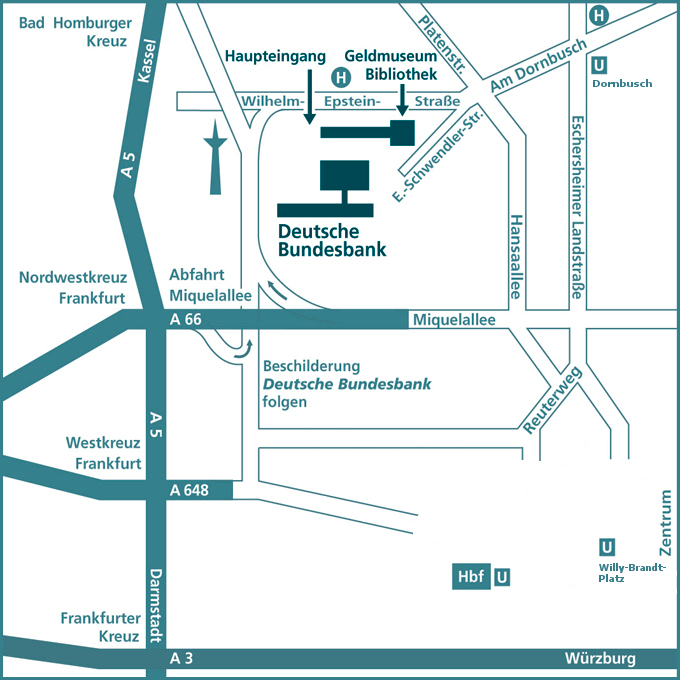 Accessibility
The museum is accessible to visitors with disabilities. Visitors in wheelchairs can use a ramp linking the street to the museum building. Once inside, the visitor can use an easily accessible lift to access the exhibition. The exhibition rooms and coffee shop are located on the same level.
The Money Museum's lecture rooms on the first floor are likewise accessible by lift.
We recommend that visually impaired visitors bring an accompanying person. In addition, we offer audio guided tours for this group of visitors. For more information, please ask at the information desk in the lobby.
Coffee shop in the Money Museum
The Money Museum's coffee shop provides warm and cold beverages and snacks.
 
Opening hours of the coffee shop

Monday - Friday
Saturday
Sunday

9.30 to 16.30
closed
9.30 to 16.30