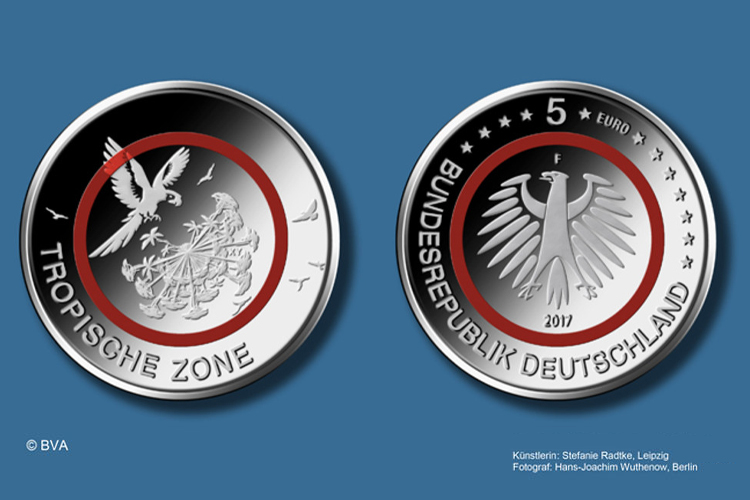 2017 – Tropical climate zone €5 collectors' coin with a red plastic ring
The German government decided to mint a 5 euro collectors' coin with a red polymer ring, "Tropical climate zone". The coin is the first in a five-part series, "Climate zones of the Earth" (2017-21, one to be issued per year), and is thus thematically linked to the first innovative 5 euro coin "Planet Earth" (a global premiere with its translucent, coloured polymer ring), which the government issued in April 2016.
The coin was designed by artist Stefanie Radtke from Leipzig. The jury explained their decision as follows:
"The artistic design impressed us with its unusual bird's-eye perspective, immersing the observer in the tropical zone along the giant trees. The parrot symbolises the biodiversity of the tropics. These realistic elements are combined with a distinctive impression of the tropical zone with its perennially damp rainforest. The red ring defines the transition into an airy open space which makes the coin "gleam" effectively. Meanwhile, the typography is consciously balanced away from the centre, which creates an additional dynamism. The reverse side with its noble eagle figure successfully harmonises with the obverse side."
The reverse features an eagle framed by the words "BUNDESREPUBLIK DEUTSCHLAND", the value and denomination, the year 2018, the twelve stars of Europe and the mint mark "A" (Berlin), "D" (Munich), "F" (Stuttgart), "G" (Karlsruhe) or "J" (Hamburg), depending on where the coin was minted. 
Its smooth edge is embossed with the inscription "KLIMAZONEN DER ERDE".
The 5 euro coin "Tropical climate zone" consists of two different copper-nickel alloys and a translucent polymer ring. The coin weighs 9 g and was produced in both mint condition and with a proof-like finish.