Macroprudential surveillance by the G-FSC
The German Financial Stability Committee (G-FSC) is the central committee for macroprudential surveillance in Germany; it was established at the beginning of 2013 by the Act on Monitoring Financial Stability (Gesetz zur Überwachung der Finanzstabilität). The Federal Ministry of Finance, the Bundesbank and the Federal Financial Supervisory Authority (BaFin) each have three voting representatives on the G-FSC. In addition, the BaFin has one non-voting advisory representative responsible for the resolution department. The composition of the committee is designed to ensure that all public sector institutions which deal with macroprudential oversight of the German financial system are represented. This incorporates the expert knowledge and assessments of the various institutions. The committee convenes once per quarter. At its meetings, the G-FSC discusses, in particular, issues that are key to financial stability and can issue warnings or recommendations. Once a year, the G-FSC submits a report to the German Bundestag.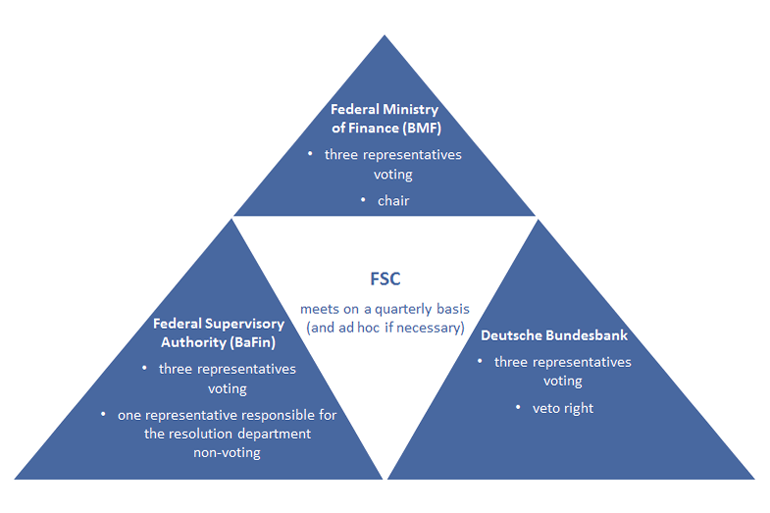 The Financial Stability Act assigns the Deutsche Bundesbank a prominent role in the G-FSC. The Bundesbank's main task is to analyse issues that are key to financial stability, as well as to identify and assess risks to financial stability (macroprudential oversight). Based on these ongoing activities, the Bundesbank prepares briefing notes for the G-FSC's meetings and prepares status reports as a starting point for the committee's deliberations. If, on the basis of its analyses, the Bundesbank identifies threats to financial stability, it presents to the G-FSC proposals for warnings or recommendations to avert or mitigate these threats.
These warnings and recommendations can be addressed to the Federal Government, BaFin or any other public sector institution in Germany. Recommendations outline suitable measures to avert the identified threats to financial stability. Any entity receiving a recommendation will be obliged to explain to the G-FSC within an appropriate timeframe how it has implemented the recommendation or to justify why it does not intend to do so. The Bundesbank monitors and evaluates the measures taken to implement the recommendation and forwards its assessment to the G-FSC.
The quality of the Bundesbank's analyses depends largely on the data available to it. If the required information is not available to either BaFin or other authorities, the Bundesbank is entitled, by dint of a statutory order issued by the Federal Ministry of Finance, to request the information directly from financial corporations.
The committee is also the interface to European macroprudential oversight. It is the point of contact for the European Systemic Risk Board (ESRB) and the macroprudential authorities of the other EU member states; it notifies the ESRB of its warnings and recommendations and deliberates on the ESRB warnings and recommendations which pertain to Germany.