2007 – 50th anniversary of the Treaty of Rome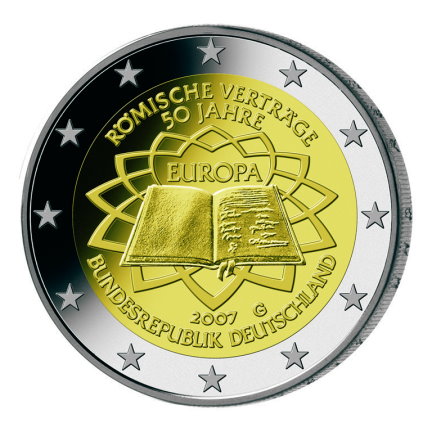 The national side of the €2 "50th anniversary of the Treaty of Rome" commemorative coin shows the Treaty document with the signatures of the six founding members on a background evoking the star-shaped paving of the Piazza del Campidoglio in Rome, which was designed by Michelangelo. The coin is to be inscribed with the reason for issue, the country of issue in the language of that country as well as the year 2007. The prototype is the result of a collective effort by the Spanish, Italian and Austrian mints. For the first time, the reverse side of the coin shows a map of Europe without any national borders, reflecting the latest EU expansion.
As on current German €2 commemorative coins, the inscription "EINIGKEIT UND RECHT UND FREIHEIT" (unity, justice and freedom) is embossed on the coin edge. The €2 commemorative coin is made of bimetal, just like the €2 coins that have been put into circulation so far. Both the weight and the diameter of the coins are identical to the €2 coins currently in circulation. They were minted in equal quantities in both mint condition and proof-like finish by all five German mints.
Issue volume: 30 million (in Germany)
Issue date: 2007-03-25