2012 – 10 years of euro cash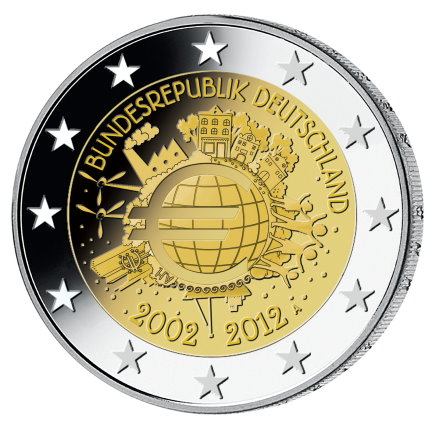 At the initiative of the European Commission, a €2 commemorative coin with a single national design was issued by all the member states of the euro area on 2 January 2012 to mark the tenth anniversary of the introduction of euro banknotes and coins.
The only differences between the national sides of the commemorative coin are the name (in the respective national language) of the issuing country as well as the national mint marks. The motif on the picture side was the winning design of an online vote – a procedure put forward by the European Commission, in which European citizens were given the opportunity to choose between five different designs.
The winning motif was designed by artist Helmut Andexlinger, an engraver from the Austrian mint (Münze Österreich), and symbolises the euro as a currency of global significance. The side of the coin denoting its value, as well as the edge lettering and the technical parameters, are the same as on any regular issue €2 coin.
As on current German €2 commemorative coins, the inscription "EINIGKEIT UND RECHT UND FREIHEIT" (unity, justice and freedom) is embossed on the coin edge, together with a stylised federal eagle.