Strong demand for €5 collector coin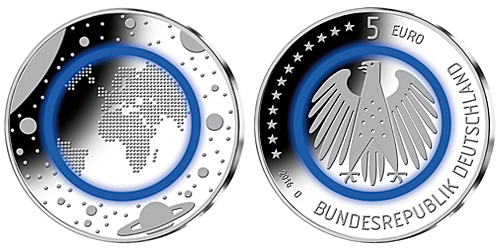 An exciting coin for collectors has been issued as of 14 April 2016 – the €5 "Planet Earth" collector coin. 2.25 million of these coins have been minted in total, of which 250,000 are collector quality coins with a proof-like finish. The mint condition version of the coin went on sale to the general public on 14 April. But the €5 coin has met with such strong demand that it is already out of stock at most branches.
Commercial banks or coin dealers are entitled to charge an additional fee for the coins. The more valuable version of the coin with a proof-like finish will only be available at the German Sales Agency for Collector Coins and through private coin dealers. However, due to the strong demand for this version of the coin, it can no longer be ordered from the German Sales Agency for Collector Coins.
The collector coin made from a cupronickel alloy is legal tender in Germany only.
Innovative polymer ring
The coin consists of three components – an outer ring depicting the cosmos, with numerous planets; an inner core portraying Earth; and a blue polymer ring holding both metal components together. The polymer ring, which shines blue when held up to the light, visually represents the link between Earth and the cosmos. This coin is a global novelty – not only because of its appearance but also on account of its technical features. Many years of work by coin experts and researchers have gone into developing a suitable plastic which offers many of the technical properties that a durable and stable coin needs to meet. It must be resistant to heat and cold, water, chemicals and ultraviolet radiation, capable of withstanding extreme mechanical stress and yet still be embossable.
Different shades of blue
As with all coins from Germany, this innovative coin also features the mint mark "A" for Berlin, "D" for Munich, "F" for Stuttgart, "G" for Karlsruhe or "J" for Hamburg, depending on where the coin was minted. And there's yet another special feature which the experts who developed the €5 collector coin have come up with – each mint uses a slightly different shade of blue for the polymer ring, meaning that the coins vary from one mint to the next. The Bundesbank branches will each only stock coins produced by one mint.