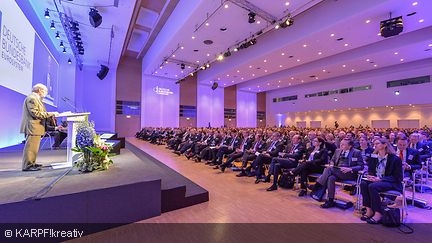 Bundesbank symposium Banking supervision in dialogue
This year's Bundesbank symposium will be held at the Kap Europa Congress Centre of Frankfurt am Main trade fair on Tuesday, 19 March 2019.
As in the past, the symposium – which has been one of the key events on topics of banking and banking supervision in Germany for many years – will serve as an important forum for presenting and discussing highly topical issues related to banking supervision. The topics that will be addressed and explored by representatives from the field of banking supervision and the banking industry include:
Brexit – strategic responses of the financial sector
The future of supervision and regulation
The supervisory review process for less significant institutions
We would hereby like to cordially invite you to this event. The Zeitschrift für das gesamte Kreditwesen (ZfgK) will be helping us to organise the symposium. We therefore kindly ask that you send your registration directly to the ZfgK using the attached fax reply form (fax: +49 69 7078400). As at previous events, limited space means that the number of participants is again restricted this year; you are thus encouraged to register in good time.