Tasks and services
Payments between banks, enterprises, public institutions and private persons are mainly carried out in cashless form nowadays. It is much safer and more convenient to make payments via bank accounts rather than with cash for larger payments in particular. Disruptions to payments impair trade and industry and can undermine confidence in the currency. Payments are therefore one of the key tasks of the European System of Central Banks (ESCB) and by extension also of the Deutsche Bundesbank.
The Bundesbank ensures the smooth functioning of domestic and foreign payments. For this purpose, it provides settlement and clearing services. Moreover, the Bundesbank, as part of the ESCB, is involved in creating a common standard for European payments. It is also responsible for monitoring payments; in doing so, it makes an important contribution to maintaining and strengthening the stability of the financial system.
The following graph provides an overview of services offered by the Deutsche Bundesbank in the area of cashless payments. See the respective links for further information on the individual systems/infrastructures and services.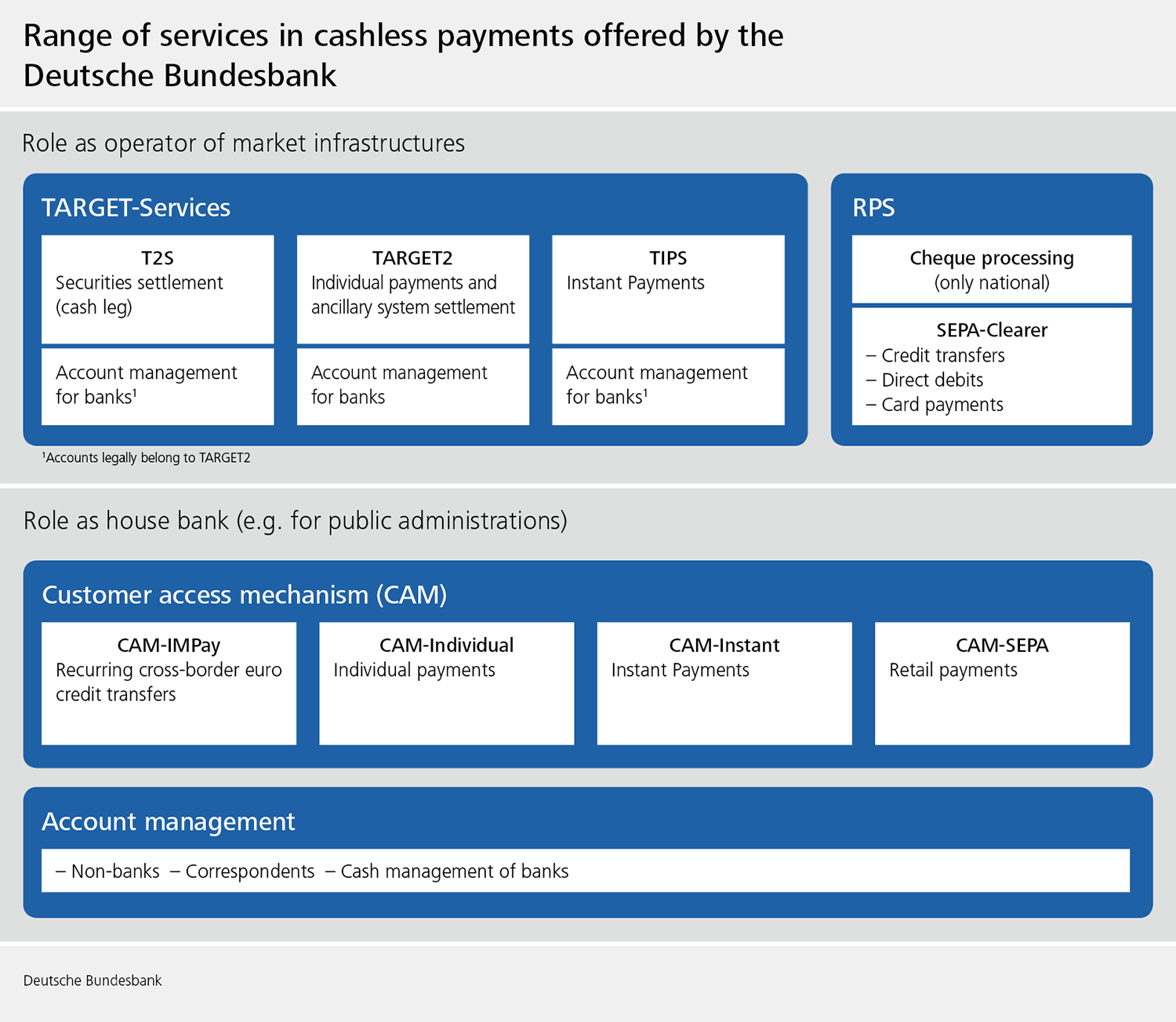 In addition, the Bundesbank will, on request, mark cheques issued by its account holders as guaranteed (guaranteed Bundesbank cheques). The Bundesbank pledges to redeem guaranteed Bundesbank cheques within eight days. Customers of commercial banks and savings banks can obtain guaranteed Bundesbank cheques via these banks if they offer this service.
Furthermore the Deutsche Bundesbank assumes the tasks of opening, for the account of government institutions (and, in exceptional cases, credit institutions as well) letters of credit in favour of a foreign beneficiary and issues bank guarantees abroad.